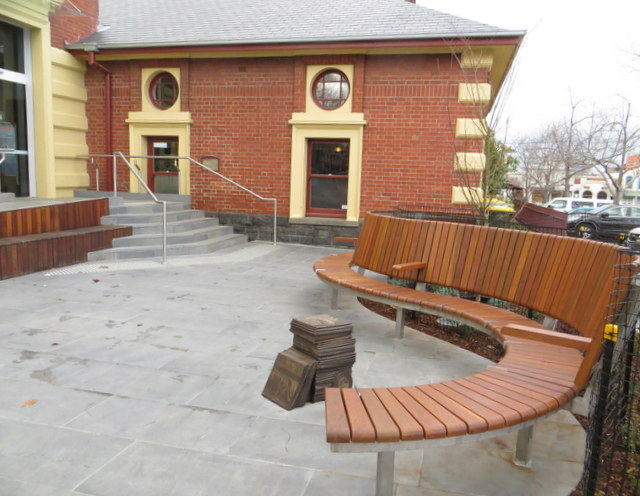 A Place to Sit
The forecourt to the Emerald Hill Library and Heritage Centre is open. It is a piece towards the implementation of a broader plan for the Emerald Hill Precinct.
I'm not sure about the public artwork Memorial to an Analogue King. It is piles of Australian classic LP records in bronze milk crates. It's too reminiscent for me of Julie Shiels bronze crate memorial to elders in O'Donnell Gardens – and less meaningful.  I had imagined the forecourt as the place where the Boonwurrung would be acknowledged and recognised as per the masterplan:  'indigenous heritage to be celebrated through art projects and interpretative signage.'  Those gatherings on the Hill were recorded in the well known painting by W F E Liardet.
The bold contemporary urban landscape contrasts with the dull lawn with its Victorian centrepiece that separates the South Melbourne Town Hall from the Library. The ecletic mix of buildings in the Emerald Hill precinct frame the open space. The masterplan imagines the various cultural institutions in the precinct: the Tapestry Workshop, ANAM, the Butterfly Club (since departed), and Multicultural Arts bringing the Hill to life. Perhaps we have to wait until summer for that energy to burst out of the buildings to achieve that intended purpose.
An icy day with hail predicted is hardly the time to see the precinct thronging with people. A sole brave person looked through his books. The housing density of Southbank is near but perhaps too far to animate this very large space.
Responding to the South Melbourne Town Hall's grand presence demands bold gestures. The skill of achieving that contrast between the old and new has been partially achieved with the new design. The implementation of the forecourt is faithful to the actions of the Emerald Hill Masterplan. The delivery of further stages will be the test of whether the Vision has been achieved.