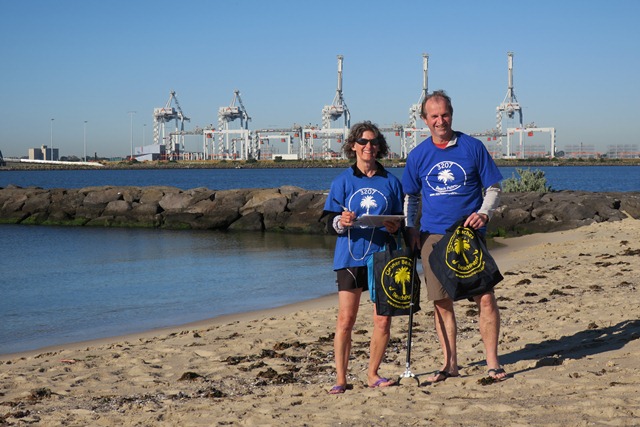 A Story of Dedication
23 March 2017
A group of supporters gathered to mark the completion of 365 continuous days of litter surveys on this 35m of beach in Port Melbourne. Ross and Ramona Headifen counted every single piece of litter a naked eye could see.
The results: 125,520 pieces of litter – all plastic.  75% of them were in just 3 (of the 15) categories:  film, large & small pieces, and food wrappers.
To find out more about these disturbing results, contact Dr Ross Headifen at Plastic Waste Solutions
17 November 2016
34,000 pieces of litter and counting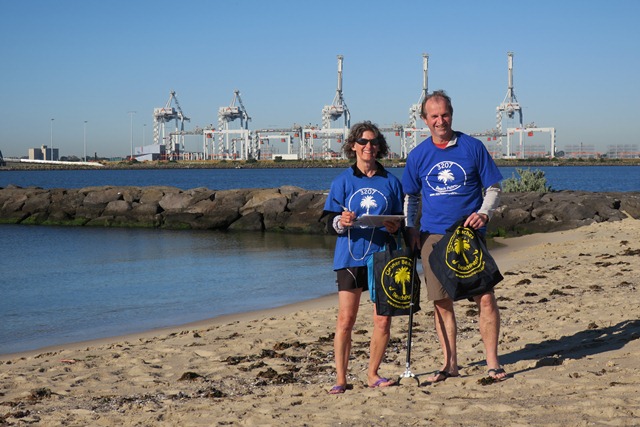 Every single day since 22 March, Ross and Ramona Headifen have returned to the same 35m of beach to pick up plastic litter.  The survey zone is First Point beach in Port Melbourne. They're up early before the beach cleaners and the dog walkers so they don't skew the results.
Ross says
"We wanted to monitor the number of plastic items washing out of the Bay each day. Unless the survey was done daily it would only have told us what types of plastic there were. It wouldn't have told the whole story.
But by picking it up every day and recording what comes in the next day, we know how much plastic is coming ashore every day.
We record the plastic  into 14 categories to understand what common types of plastic are being littered.
We also record the wind strength and direction every day in 10 min increments (off a weather website), so we are able to predict what litter will wash up on other beaches in other directions.  The Bay is 260 km around.  So far the model is predicting a billion pieces wash out of the bay a year.
That is terrible for our bay.
Most of what we pick up – about 70% – is plastic bits, mostly clear film (those > 5cm and <5cm) and food wrappers. Clear film comes from cigarette packets, cling wrap, food wrapping and plastic bag remnants.
By observing the wind every day we can see the strong correlation to the wind direction.  A stiff onshore wind brings in high tides and thousands  of pieces whereas an offshore wind results in a lot less.   Still some comes in and out with the tide.
On the 23 October, a Sunday, we picked up 4,200 pieces of plastic along our 35 m section. There had been a big southerly onshore wind the day before. It took hours to collect.  Ramona cried! 4,200 in 35 m!  How much around the rest of the bay?"
The Headifens are collecting this data so meticulously to convey the severity of plastic litter pollution in Port Phillip Bay.
Fanfare for Ross and Ramona!
Ross and Ramona are members of 3207 Beach Patrol which meets on the first Saturday of each month for an hour to clean one of Port Melbourne's beaches. Beach Patrol is a baywide initiative to involve people in picking up litter on their nearest beach (or street). So far there are twenty groups around Port Phillip's 260km shoreline.
Dr Ross and Ramona Headifen's paper A Survey Method to Determine Plastic Rubbish in Port Phillip Bay,  Part II, The First Six months is available for download from the Beach Patrol website.