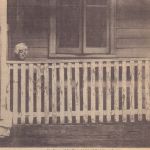 Port Melbourne continues to change. Houses are changed or demolished and new houses take their place. New forms of housing are created. Port Houses records some of these changes.
Port Melbourne has a great diversity of housing from different periods. Port Houses takes an interest in individual houses, and debates about planning in Port Melbourne.
Port Houses attempts to document those houses that are demolished and keep track of them until the new house is built.