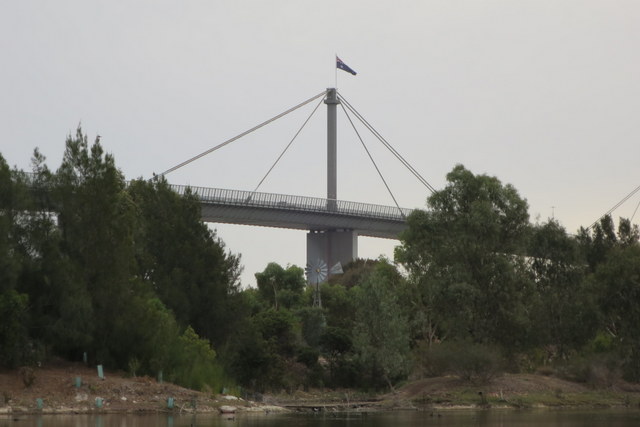 Above and Below
When introducing a friend to Westgate Park, he was struck by the contrast between the flow of vehicles across the Westgate Bridge and the life in the Park below.
While cars and trucks streamed unceasingly across the Bridge, a pair of black swans cared for their week old cygnets.
The Westgate Bridge is emphatically the defining feature of the Park, and a cue to how the Park came about.
When the Westgate Bridge was finally completed, Sir Oscar Meyer, chairman of the Westgate Bridge Authority, looked down on the featureless trashed landscape, and envisaged a park that would be a fitting setting for the new Bridge.
It was conceived from above.
Westgate Park is unusual in that many more people experience it from the Bridge than from within the Park itself. More people respond with 'aha' recognition to 'pink lake' than to Westgate Park because they've seen it from the Bridge.
The Bridge has for many years stood like a giant sculpture folded through the empty landscape. That visual experience is changing.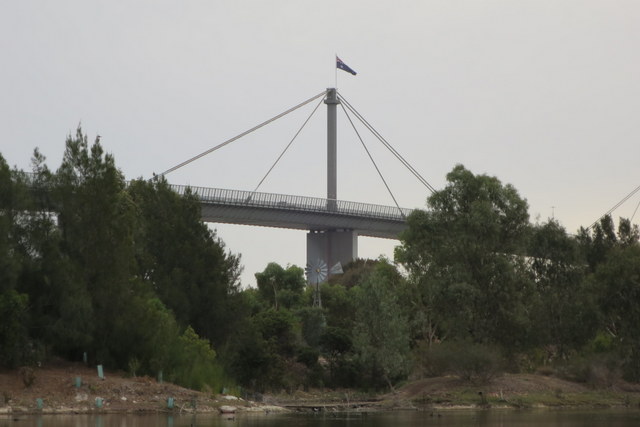 Trees grow into view lines. The sound walls along Todd Road are closing down the view of the Bridge to the west as does the newly constructed PDI (pre-delivery inspection facility) associated with the new automotive terminal. It covers around 16 hectares of formerly vacant land. Vehicles will be prepared for sale on site within the Port of Melbourne, rather than being trucked away for this service. The intention is to reduce traffic movement into and out of the Port.
Thanks to Art Truter for telling the history of the creation of the Park