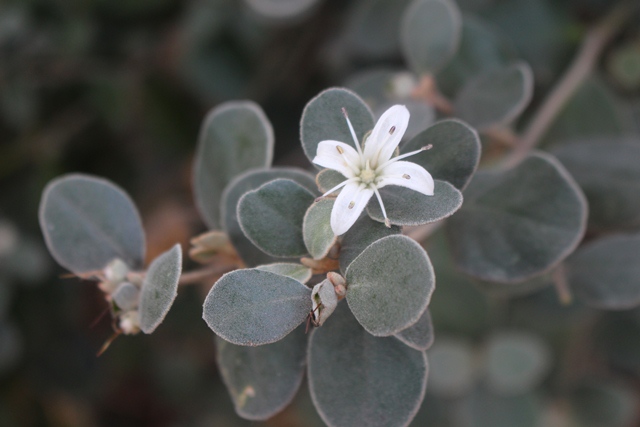 Affinity
Only 0.8 degrees this morning and frost on Lagoon Reserve.
It's reached the time of year when even winter advocates are willing the seasons to turn. Thoughts turn to gardening.
When SKINC  (St Kilda Indigenous Nursery Cooperative) and Friends of Westgate Park decided to merge they knew they had to relinquish their cherished logos to find one that expressed their new identity – Westgate Biodiversity: Bili Nursery and Landcare. (Secretly I think we didn't believe that anybody could do it).
Jack Dashiell Howe, graphic designer, spent time in the nursery and the Park absorbing the work of the two organisations. He says: 'when I was a kid my parents used to take us to the park underneath the Westgate bridge in Melbourne to ride our bikes and walk around the bushland there. Almost 20 years later I went back to this park, lured by stories and photos of a bright pink lake, and I was amazed about how such a big beautiful park existed in such a industrial part of Melbourne, but what I wasn't aware of was how much work and care had gone into transforming it over 30 years into what it is today.' 
He got the essence of the new organisation in designing the new identity. Jack chose a single flower of correa alba with just a hint of Westgate Bridge.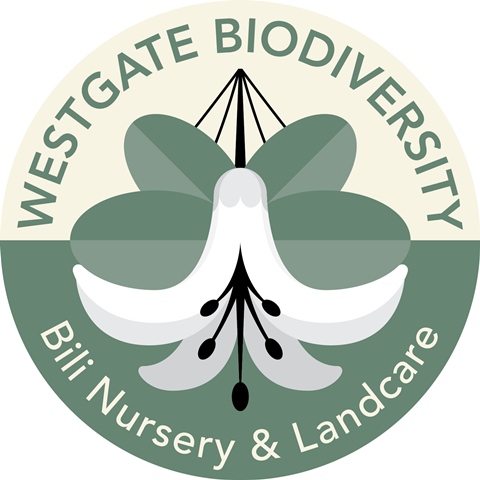 Lyn Allison, chair of Westgate Biodiversity, says 'we like the way the icon celebrates the symmetry of plants and the generally muted aesthetic of locally indigenous species.'
Jack's careful choice and beautiful interpretation prompted me to look more closely at this unassuming flower with its waxy-white petals and its tomatose under side. That means dense, matty, with woolen hairs.
It's likely you would also have passed it a hundred times without noticing because it's commonly used in many urban, especially coastal, parks. It likes sun but doesn't mind shade, can be shaped or hedged, suffers no known pests or diseases and attracts birds.  Was there ever a more accommodating plant?
The correa species was named after Portuguese botanist José Correia da Serra (1750–1823). He was said to have 'endorsed the view that the classification of plants should be based on the establishment of affinities rather than of differences'.
How appropriate that the merger between these organisations should be based on a recognition of their affinities.
Westgate Biodiversity: Bili Nursery and Landcare creates a virtuous circle. Plants cultivated at Bili Nursery are planted out at Westgate Park and in parks and reserves around Port Phillip. Seed and cuttings are harvested from the Park and multiplied many fold at the nursery.
Westgate Biodiversity is working towards re-locating Bili nursery to the Park.
The Nursery's annual spring sale is on this Friday and Saturday from 10 to 4 – next to the Port Footy Ground at 525 Williamstown Road.  Time to stock up on the locally indigenous plants. Maybe even find a space for a correa alba?
Not all the crowds will be for the Nursery. Port is playing in an elimination final against the Box Hill Hawks at North Port Oval on Saturday..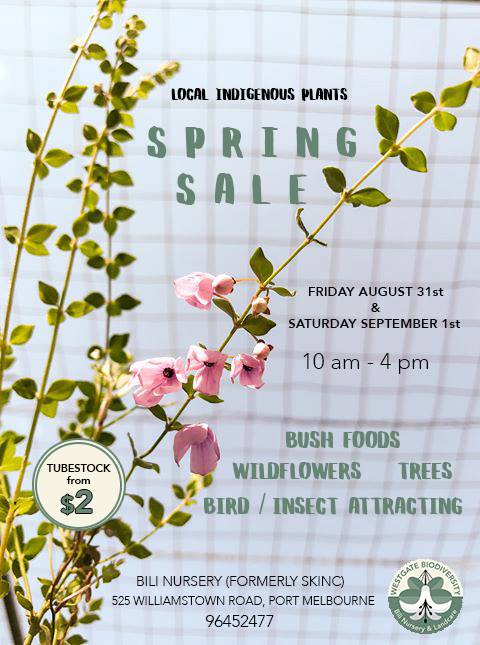 More
Follow the talented Jack Dashiell Howe on instagram
Janet Bolitho is a committee member of Westgate Biodiversity: Bili Nursery and Landcare