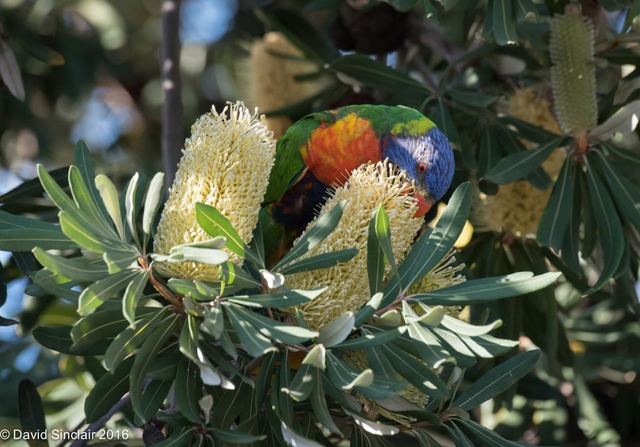 April Autumn
It's autumn in Port Places. The quest for the best red leads down Port lanes.
Dr Tim Entwistle, director of the Royal Botanic Gardens, challenges the acceptance of the European inheritance of the seasons. He introduces the notions of sprinter (August and September) and sprummer (October and November). He argues that rather than starting in March, autumn should start in April. Even this approach is blunt in its categorisation. The Boonwurrung did not think of seasons in this way.
What is autumn anyway?
Autumn is characterised by the leaves turning, more soil moisture, and fungi that make themselves visible when their fruiting bodies break through the ground.  (The 'more soil moisture' of that description has been challenged by this dry April.)
April is also flowering time for the banksias and some eucalypts. Port's streets and parks are hectic with flocks of lorikeets feasting on the nectar and then swooping off again. They fly arrow like and low between trees. Listen to them carry on …
The presence of these gorgeous birds in such large numbers in Port is a relatively recent phenomenon. The birds have come back in response to the planting of more nectar producing flowering trees. We may have grown indifferent to their splendour but they stop tourists in their tracks on the foreshore promenade.
So let's not fuss about the start date of autumn but rather revel in autumn manifestations.
RMIT researchers Georgia Garrard and Sarah Bekessy imagine Fishermans Bend as a place rich in nature. They have looked at five species for possible re-introduction into Fishermans Bend – each species chosen for a particular reason. One of the five is the spotted pardalote because it is already found at Westgate Park. They investigate what conditions would need to be created to support these species.
Is it far fetched or a real possibility to imagine that people living in Fishermans Bend might one day be as delighted by the spotted pardalote as we are with the lorikeet?
More
Seasons of Change: nature vs calendars produced by Michael Schubert on SoundMinds Radio
The Rainbow Lorikeet was the most counted bird across Australia in the 2016 Aussie Backyard Bird Count, and the third most frequently counted in Victoria.