Art in public places
At sunset photographers line up on Princes Pier to capture the daily changing magic of the sun slipping down over Webb Dock and Williamstown. Twilight follows.
Astronomers differentiate between three phases of twilight: Civil Twilight, Nautical Twilight and Astronomical Twilight. Evening civil twilight begins at sunset, and ends when the geometric centre of the sun is 6 degrees below the horizon. During civil twilight generally artificial lighting is generally not needed.
City buildings shows their colour and light at twilight.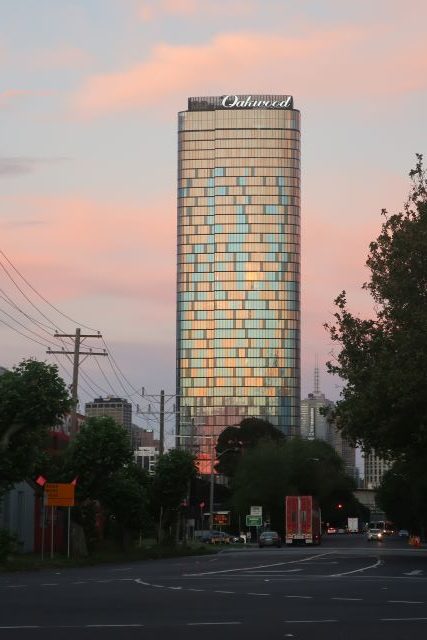 ---
From time to time, I like to visit Fytogreen's green wall on the Medibank Building in Bourke St, Docklands. On hot days, it is soothing and cool to be near. It's textured, layered and moist. Like an oil painting, you get a different appreciation of it from close up and far away. Both are rewarding.
Crossing Bourke St to get the further away view, I found myself in the presence of a work of public art – an angular brick bell tower of deceptive simplicity conveying a civic presence. The bonded brick work is striking in its patterning, and the bell aloft lends a symbolic quality to it. It felt reassuring to be in its presence.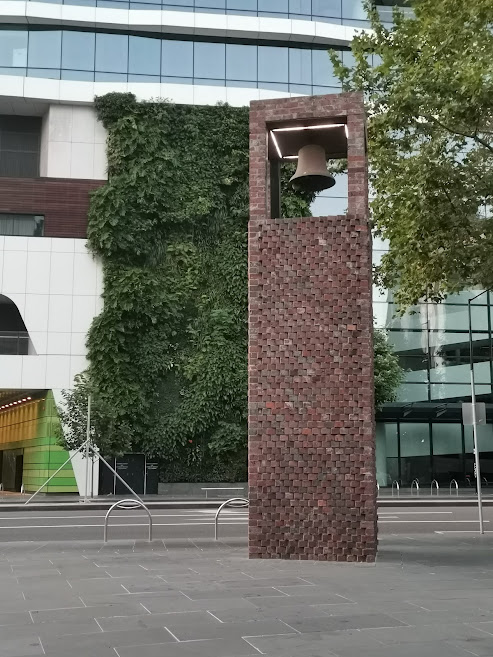 ---
But it was exploring the story of this artwork that has led me to a far greater appreciation of it.
It is called Civil Twilight End.
The artwork was conceived by artists Kate Daw and Stewart Russell but it took many more artists and a facilitator dedicated to its realisation to bring it about. It was created as part of Docklands urban art programme when developers were required to pay 1% of the value of their projects to urban art.
What characterises the works created at this time, including Reed Vessel, was a deep engagement with both the place and the time. Docklands had a past which at that time many were keen to put behind them and an envisioned future expressed only in planning documents. Civil Twilight End put a stake into the place at a human scale with a civic presence.
Simon Maidment brought all the artists and the developer Equiset together through Satellite Arts Projects. Maidment said in an interview "I think that art has a crucial and active role to play in proposing, shaping and eliciting different kinds of living in society. I'm very interested in art that is not just born of an historical moment within an artist's mind but is in direct response to the context in which it has been made, and for that to really operate well and have some frisson".
Civil Twilight End is slightly offset from Goods Shed North, the longest railway shed in Victoria. It is made of bricks from the Goods Shed when it was cut through for the Collins St Bridge. The artwork was informed by the immersion in the heritage investigation of the site by Lovell Chen Architects. The bell tower was designed in collaboration with architect Geoffrey Barton and Lovell Chen Architects, and built by Equiset Construction.
And the bell! The bell was designed and fabricated by bell maker Anton Hasell who also designed the Federation Bells. It was designed to ring at Civil Twilight.
Excited to hear the bell ring, I hastened to the site at Civil Twilight but the bell did not ring.
---
I learn that since the artwork was commissioned by VicUrban as part of the development of Docklands, it is neither owned nor managed by the City of Melbourne. The curation and care that the City of Melbourne extends to its publicly commissioned work is not available to it.
Respected and loved artist Kate Daw died in Sepember 2020. She was Head of the VCA School of Art.
The notion of the bell ringing at Civil Twilight was intrinsic to this artwork. As people return to Docklands and to Melbourne it would be wonderful if the Civil Twilight End bell could ring again as a tribute to the artist who imagined it.
As Leonard Cohen said "Ring the bells that still can ring".
This exploration has revealed to me how the experience of public art can be heightened by online exploration – a hybrid public realm.
More
Kate Daw Remembered: a voice of conscience and kindness Dr John Meade, 23 October 2020
Read more about Dr Anton Hasell's fascinating work with bells – how ancient and contemporary digital approaches come together as he seeks to listen more deeply to this land.
And for the Leonard Cohen fans, this is an interesting and apparently rare interview he gave about Anthem.