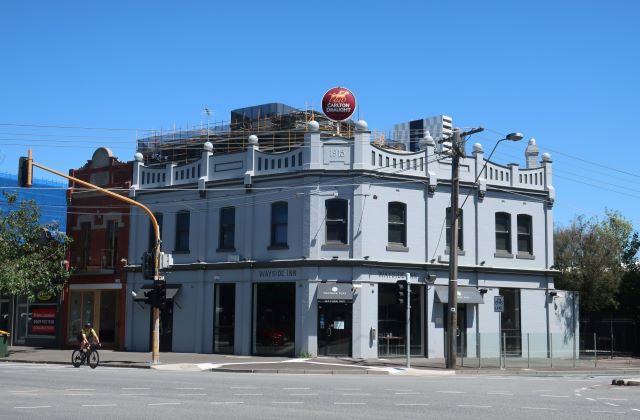 At a crossroads
The Wayside Inn, on the corner of City Rd and Ferrars St, has been sold and has a new tenant. There has been a hotel with this name on the site since 1868. The exterior of the hotel remains remarkably intact, though all is changed within.
The hotel commands the corner. It's not hard to get a sense of the prominence it once enjoyed when City Rd was the main road from Port into Melbourne. The 1915 hotel, built for Julia and John Palmer,  replaced an earlier hotel on the site1. Earlier in the 20th Century, the Wayside Inn could field a cricket team that attracted 2,000 spectators2. But in recent times, the Wayside Inn has been neither here nor there – not quite Southbank, not quite South Melbourne, and yet not Port Melbourne.
A highly valued, and very rare, attribute of the Wayside Inn is its 7 am to 5 am liquor license, a hangover from an earlier period. Does the license go back to the days when the hotel was open to waterfront workers from 7 am?
Although advertised as one of South Melbourne's 'most heavily trafficked intersections', more and more people are crossing City Rd on foot. The South Melbourne Market is the beacon – most marketing for new developments notes how many metres the apartments are away from the Market. The intersection is emerging as a gateway into a new residential precinct.
Across Ferrars St, at 444 City Rd, VIRID Vertical Gardens flourishes. Even on this hot, hot day, it felt cool with a mist drifting off the pink petunias still looking good in 340. VIRID Vertical Gardens replaced the lawn mover service that used to operate from these premises. No need for lawn mowers here. Every thought has been given to making the vertical gardens adaptable to every conceivable setting and scenario – from individual pots, to trolleys, to fixed or free standing walls. For inside or outside, there is a plant and framing combination to suit.
Across City Rd, the site has been (mostly) cleared between the 96 line and Ferrars St to make way for Ferrars & York, 22 carbon neutral apartments. Timber salvaged from the demolished warehouses is being used by Revival Projects in a series of furniture making workshops for women as part of the the Sustainable Living Festival.
Behind the Wayside Inn, several developments are nearing completion: Montague Square, 0South, and Lilix. No reference to Montague, or to Fishermans Bend. South Melbourne (and don't forget South Melbourne Market) is the place association.
For many years, the Wayside Inn didn't have a strong identity – but now, being the only licensed venue on the northern side of Montague St, it looks set to become a gathering place for the many new residents about to move in.
More
1The Wayside Inn, citation 2137 Port Phillip Heritage Review
2 Montague: a community lost and found
Ferrars & York, 22 carbon neutral apartments designed by Six Degrees
Where are all these places?