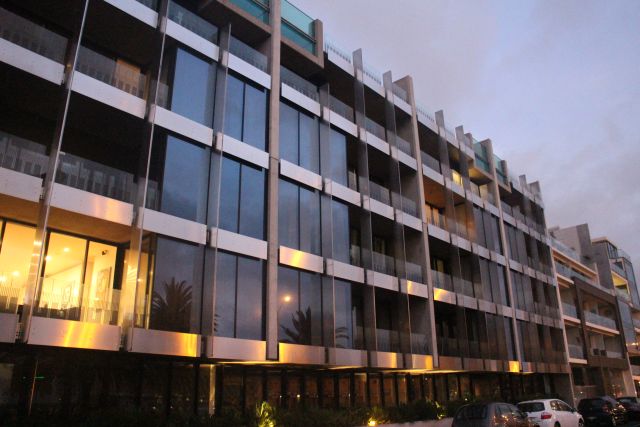 Beacon
4 February 2014
Planning Minister Matthew Guy nominated his best and worst of Melbourne architecture in yesterday's Herald Sun.
Guy favours the classics – the Royal Exhibition buildings, the GPO and the Parliament of Victoria – with a few contemporary exceptions such as the Eureka Tower.  That project exhibits some of the qualities he would like to see in new architecture – 'three dimensional vertical works of art'.
This prompted some thoughts about the best and worst architecture in Port Melbourne – both new and old.
My best by a long way is Wood Marsh's Beacon at 30 Beaconsfield Parade.  I agree that the 'building offers an elegantly refined and understated presence'. Unlike its neighbour, hm@s, Beacon fits in. But not at all in a boring way.  It is elegant, contemporary and smart, appearing warm at night and cool by day.
Next is Plus Architecture's Armada apartments in Nott St. I especially like the timber lined entrance. Unfortunately, the building is let down by the very poorly maintained streetscape in Nott St.
With intense public debate about urban density, Port Melbourne makes an interesting case study. There are a range of building types and heights from single storey workers cottages, to the heights of hm@s, and everything in between.  There are examples of six, eight and ten storey buildings. Many different eras and philosophies of housing are represented.  There is a mix of public, private and social housing. This diversity adds visual interest and also offers a range of dwelling sizes.  All this has been brought about, of course, by a combination of politics and planning resulting in the nuanced height controls that cover the growth area of Port Melbourne between Graham Street and the beach.
My favourite heritage building is Port Melbourne's very own J J Clark building – the former Post Office (cnr Rouse and Bay St) – one of his earliest.
Urban Melbourne offer their thoughts on Port Melbourne style here.
And affordability? A question to explore another time.