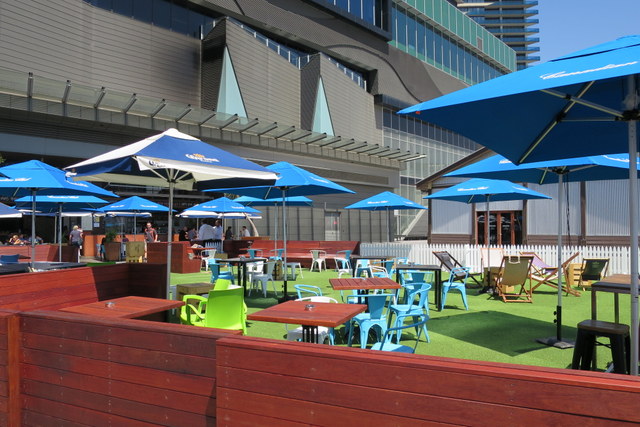 Between Two Created Worlds
The underside of the Charles Grimes Bridge is low and shaded.
It's the transition between South Wharf and Yarra's Edge – between two newly constructed worlds.
South Wharf is everything people complain that Docklands isn't. It's alive with people and activity. The spaces between the Convention Centre and the re-purposed sheds create the crowded popular laneway feel. Although entirely rebuilt, the sheds hint at their original use.
The branding is proletarian.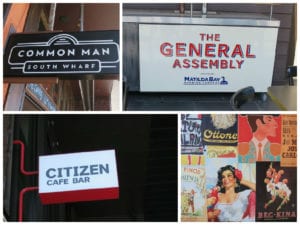 The Common Man has a green wall, best service and common (wo)man priced coffee. This square of synthetic turf outside the Common Man is endlessly versatile – it is re-arranged and re-configured in deliberate and casual ways.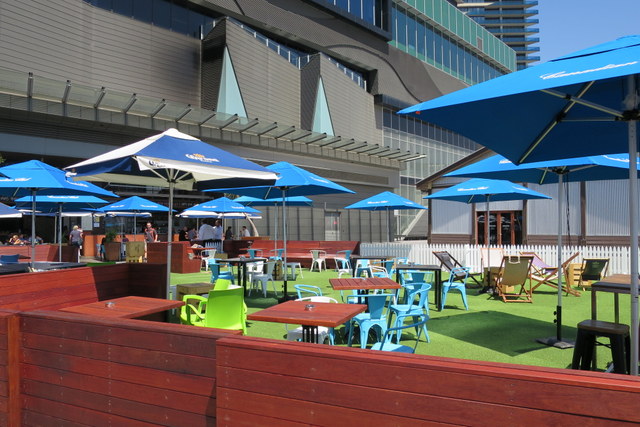 Yarra's Edge extends from the Webb Bridge to Bolte Bridge. It's on the sunny side of the river. As proudly proclaimed in a recent article in the Age, it's a 3,000 strong vertical community. Unlike South Wharf, its wide, too wide? waterfront promenade is quiet. As Jan Gehl said recently in relation to Canberra, 'its like being at a party but noone's invited the guests.'
The emphasis on community has been taken to excessive heights/or lows? in the W.E. branding for Mirvac's new Wharf's Entrance precinct of Yarra's Edge –  'Its where we belong'.  The new development will feature dining rooms with chef's kitchen and communal entertaining areas.
The branding is exclusive.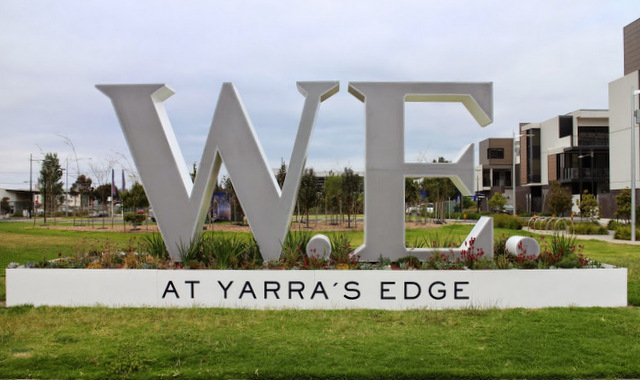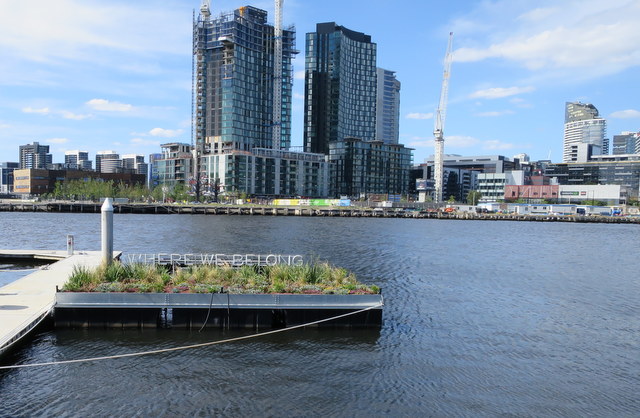 Amazing to contrast this with Mirvac's  first foray into waterfront development at Port Melboure's Beacon Cove in the early 'nineties.
The decaying shed and crane on North Wharf are the last remnants of the earlier shipping world of South Wharf. It too will soon have a makeover. People may be glad to see it gone, but I like this last trace of history visible.
Some great articles about this part of the river downstream of Spencer St Bridge
Toby Horrocks South Wharf ARCHITECTUREAU 
Heritage Council of Victoria  Industrial Heritage Adaptive Reuse Case Studies The Boatbuilders Yard 
Mark Baljak North Wharf: A New Urban Space