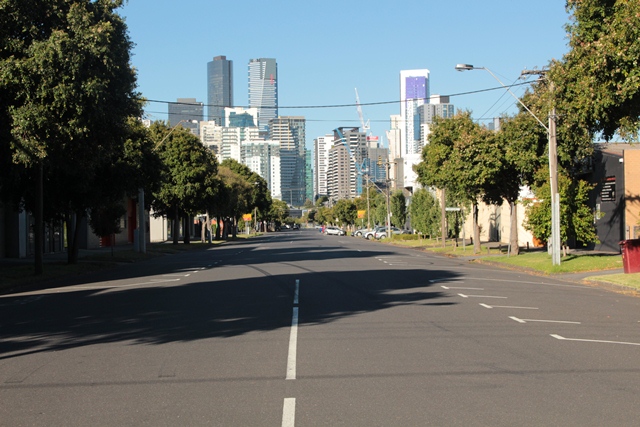 Buckhurst Street, Montague
The roads are wide in Fishermans Bend.
They are also one of the precincts greatest assets for their potential to be used for open space said Tracey Slatter, former CEO of the City of Port Phillip, at a SGS seminar.
Fishermans Bend is car dominated during the week, and the footpaths are quiet. On weekends, drivers pick up speed on the wide open roads and the footpaths (such as they are) are quieter still.
In a future Fishermans Bend – (the vision being realised?) – the bitumen will be peeled back and these streets will become places for people rather than principally for individual car movements.
Buckhurst St is one such street that will play an important role in Montague in the Fishermans Bend of the future.
Buckhurst Street was once the central street of the small, contained community of Montague in South Melbourne. There are still clues that Buckhurst Street was once a residential street – just like in Port or South Melbourne – the network of blue stone lanes, and some remnant heritage buildings. Children played in the street since the houses were small and the families large. People lived and worked here. Cars were rare.
It fits that the street is named after William Parton Buckhurst – auctioneer, estate agent and developer. He built elegant Rochester Terrace at 33 to 51 St Vincent Place 'the finest and largest classic revival terrace development in Victoria'1 which is on the Victorian Heritage Register.
Buckhurst Street has city familiar attributes like Burgerlove hidden down lane like George Street and character filled heritage buildings such as Print Mint, the former Milsun Confectionary Factory where children were given broken lollies from a door in the wall.
The nature strips in Buckhurst Street are tree lined with mature lilly pillies bleeding colour in September and a block of olive trees.
At its northern end, Buckhurst Street will open onto the Ferrars St community and education precinct, currently under construction. The project, designed by Hayball, recently won the Future Project of the Year award at the World Architecture Festival in Berlin. Director Richard Leonard said that 'What we're most proud of is the combination of a learning hub with a community centre for the local residents to enjoy, which embraces the connection between learning and recreation, students and neighbours.'3
More
1 Rochester Terrace Victorian Heritage Database
2 Vertical school wins Future Project of the Year
Dr Robert Grogan William Parton Buckhurst City of Port Phillip heritage website
Street Furniture Australia offers this explanation of the difference between a road and a street:
A 'street' is a place in its own right. It is for all users and transport modes, and encompasses all that occurs building-to-building; including the building fronts themselves whereas a road is a 'road' is a right of way between two points, prioritising thoroughfare (primarily for vehicles) over amenity.