Celebrating the Yarra
Scenes on the Yarra for World Rivers Day 27 September 2015
The moon!
On an evening  of Melbourne perfection, the moon rose and the sun set in a choreography of colour over Docklands for Scenes on the Yarra. Even Etihad Stadium turned silver and the containers at Swanson Dock deepened their redness.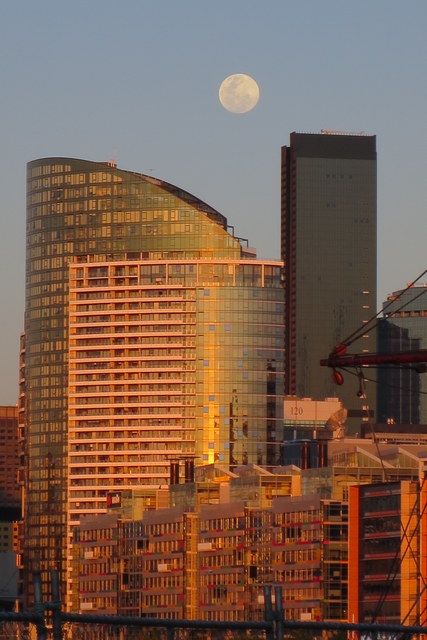 This Docklands episode, the final in a series of six scenes staged at different places on the Yarra, involved stories, vignettes and poetry revealed in a guided walk along North Wharf.
The space outside Library at the Dock was just the spot to gather to begin.
Wurundjeri elder Ron Jones cast his eyes around in vain for some wattle and gum to bring to the welcoming smoking ceremony. His gesture said a lot about the paucity of indigenous vegetation in the Docklands landscape.
North Wharf still has enough historical remnants to activate the imagination – though they are rapidly disappearing.
The narrator/guide shared creation stories of the River, of the lagoon that became known as Batman's swamp, dockside workers, and the Alma Doepel. Restoring this three masted ship  (the masts just the right height to slip under the Bolte Bridge) is a major community as well as ship building enterprise. The walk ended at the tip of North Wharf with the Bolte Bridge looming above.
As the dark came on that rare day, it felt that there was no better place in the world to share that scene on the Yarra than on North Wharf.
With the AFL Grand Final now in October,  perhaps the last Sunday in September can become better known for celebrating the Yarra River on World Rivers Day.
More 
Jeminah Alli Reidy developed a series of six Scenes on the Yarra. She worked with artists and communities along the River to create art that responds to the intrinsic qualities of the site.
September 27/28 was a rare combination of an eclipse with the closest full moon of the year. Australia missed seeing this rare astronomical event.