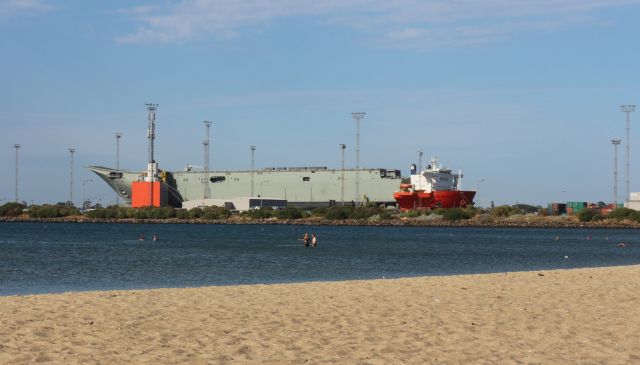 Curious
'What sort of weird ship is this?' and 'is that orangey, red thing part of the ship – or not?'
People were asking these questions on Sandridge Beach this morning.
It is a Landing Helicopter Dock Ship. It has come 10,000 nautical miles from Ferrol in Spain, on the  Heavy Lift Ship Blue Marlin.
How strange it seems to be swimming so close to to such a formidable – though incomplete – warship.
Over the next few days the sea fastenings will be removed. The hull will be floated off the Blue Marlin and moved by tug to Williamstown where all is in readiness for fitting out and building the superstructure on the hull. To get a fuller picture of how the hull sits on the Blue Marlin, there are some great pictures here.
Once commissioned by the Navy, it will be known as the NUSHIP Adelaide and together with the NUSHIP Canberra,  will be the largest warships ever commissioned by the Australian Navy. Each ship can carry a combined armed battle group of more than 1100 personnel, 100 armoured vehicles and 12 helicopters and also features a 40 bed hospital.
This information is taken from the media release of Minister for Defence  David Johnston 7 February 2014