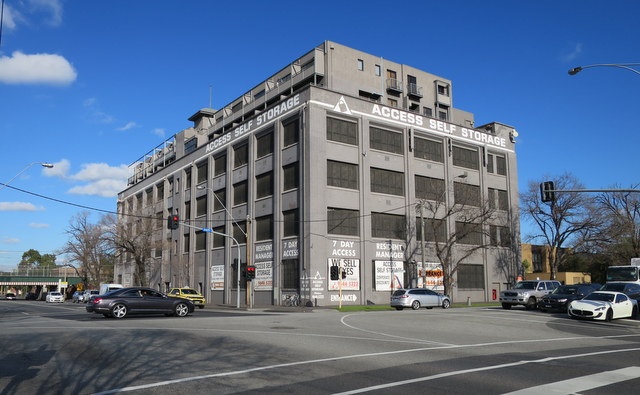 Dunlops in Montague
The usual experience of the intersection of Montague Street and Normanby Road is waiting impatiently for the traffic lights to change to get somewhere else.
The area between this intersection and the M1 freeway is becoming the epicentre for development proposals in the Montague precinct.  The most recent is the scheme for six new towers and 1580 apartments revealed in The Age on Tuesday.
This familiar building, on the south west corner of the intersection, is just a small remnant of Dunlops' extensive factory which stretched across Normanby Rd and south to Boundary St.
Dunlops started when John Boyd Dunlop created the world's first pneumatic bicycle tyre in a Belfast workshop in 1888.
An Australian branch of the English Dunlop tyre company set up in Tattersalls Lane in Melbourne. Cycling was growing and there was a great demand for bicycle tyres.
In 1899, Canadians Garland and Proctor bought the Dunlop business in Australia. The Australian directors of of the firm decided that in order to grow, they needed to move from assembling and stitching tyres to manufacturing them.
They needed a large area for the factory as well as a place where the smoke and smells emitted would be tolerated.
No better place than Montague with its low lying industrial land, close to Montague Station, the river wharves and bay piers for the delivery of raw materials rubber and coal.
The directors recruited John Kearns who had the skills and experience in making rubber goods from the raw material to run the factory.
He was acutely attuned to the quality of the rubber produced in the factory.
One of his employees said that 'every morning John Kearns would bite off small chunks of the previous day's output of bicycle tyres. If his teeth left too great an impression on the rubber there was trouble for someone.'
Biosis recommends the building for further investigation with a view to inclusion on the Victorian Heritage Register (VHR)
Sources
Blainey, Geoffrey Jumping Over The Wheel. St. Leonards, NSW, Australia: Allen & Unwin, 1993 p47
Dow, Aisha Six new towers proposed for Melbourne's Fishermans Bend The Age 6 July 2015
Biosis Fishermans Bend Heritage Study prepared for Places Victoria 11  June 2013