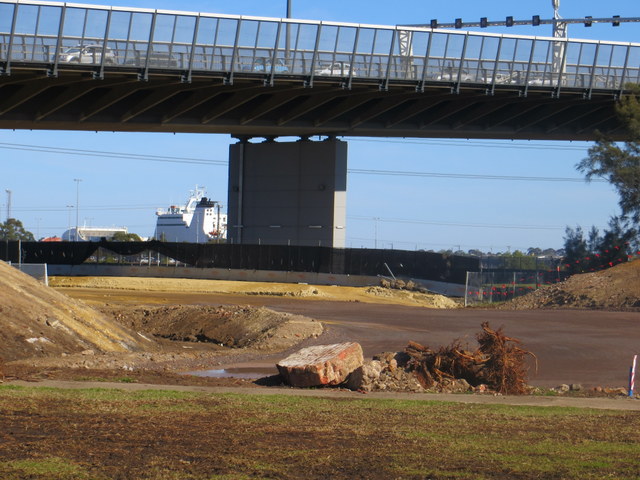 Earth Moving
The landscape west of Todd Road is being reshaped as the Port of Melbourne gives effect to plans for the expansion of the Port at Webb Dock. The urban wasteland paddocks, vacant for decades, are being smoothed over and will soon be covered in concrete.
In spite of the Port's 24 hour access line, daily notifications, notices on site, and a state of the art website, many people seem to have been taken by surprise by the extent of the changes taking place on Port Melbourne's border with the Port.
Perce White Reserve is hard to recognise. Isolated banksias and casaurinas are the only trees still standing, their trunks circled with red tape suggesting their future is secured. The perimeter fence conveys a 'keep out' feeling. The promise of better places to come feels uncertain when losing places we've loved.
A corner of Westgate Park has been excised from the Park and vegetation removed to make way for a new road exiting the Port to connect with the Cook Street roundabout and the M1 freeway.The area that is now Westgate Park was once part of the low, flat, wetland system of the Yarra River entrance. The mounds that are such a feature of the Park have all been 'shaped and sculpted' from demolition waste from construction sites when the Park was created in the 1980s. As order emerges from the chaos of earthworks into a smooth road, the archaeology of that fill reveals that interesting layer of history.