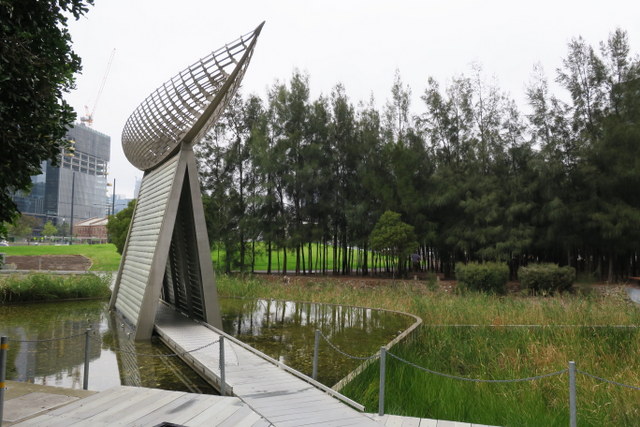 Finding the River
Over the time of isolation, I have spent some time near the River and become preoccupied with our relationship to our Yarra River, known to the the Woi Wurrung (Wurundjeri) and the Boon wurrung as the Birrarung, the river of mists and shadows.
So I have prepared a series of walking explorations to get to know the River better, particularly in this very inner urban reach. This is one of the sites we will visit on a virtual walk on Sunday.
Reed Vessel
In this rainy season, I went looking for wetlands in the place where they were once found, in the area now known as Docklands.
Reed Vessel sits in a reflective pool fringed with reeds surrounded by trees between the Harbour Esplanade and Navigation Drive in Docklands Park.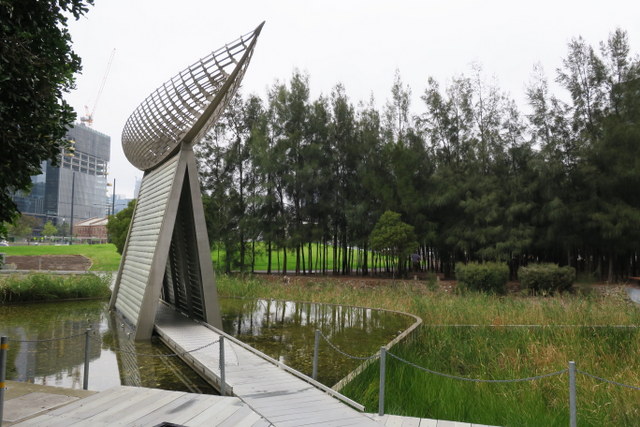 This artwork, commissioned by the Docklands Authority, responds to the place that once was. It is dense with meaning. Both in its details and as a whole, the work is beautiful.
Virginia King created this work and her artist statement is poetry too:
"Reed Vessel embraces themes of migration, the river and the sea.
The work references the history of the site, the once-abundant food source of the vast tidal wetland that existed here, stories of the river and marine archaeology.
The vessel becomes a container of memories, a symbol of distant horizons, spiritual journeys, life, hope and survival.
The cladding of Reed Vessel alludes not only to the rib and strake of timber and steel ships but also to tidal flow, woven baskets, riverboat and canoe. The skeletal structure can be references as leaf or seed pod, source of food and source of life."
Fragments of text, from writers and poets including Peter Carey, Les Murray and Tim Winton, are etched into the louvres over which water slides. The words are slowly being washed away, like the action of a river on stones. Recycled water flows from a reservoir beneath the vessel down the louvered panels of the cradle to the pool.
Here are just a tantalising few:
"By the riverbank and around the lagoon
Tears leave no grooves in archaeological sites
Water wears all colours and owns none
His words are leaves from the paperbark"
You can walk through the sculpture, listening to the water falling down the louvres.
The animals that once lived in these wetlands – frogs, eels and lizards – are inlaid into the aluminum path. Sadly, some of them have been souveniered.
Docklands Park has recently been refreshed. The surrounding vegetation has been tidied up, new trees planted and a long bench seat introduced which defines the space.
Cool on a hot day, and looking just right on a wet grey one, Reed Vessel is a wetland refuge.
More
Virginia King Reed Vessel
Commissioned by the Docklands Authority 2002 – 2004 
Docklands Park, Melbourne, Victoria
Melbourne Docklands Public Art Program  Urban Design Forum Australia 9 August 2008