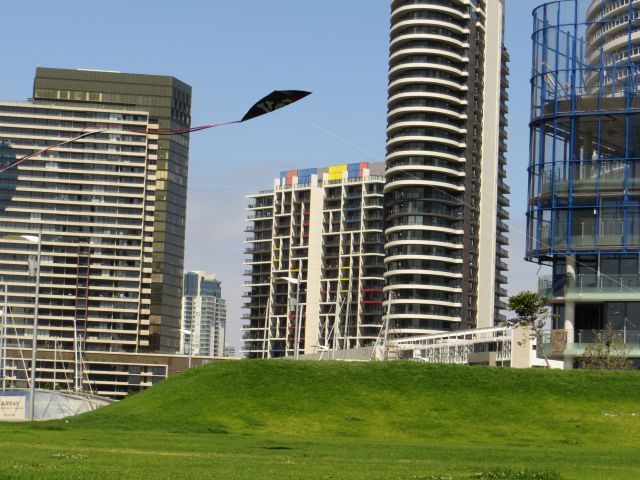 Flying a kite
May 2015
The tram bridge crossing appears to be off the table in the review of planning for Fishermans Bend. 'The no bridge stance was promised in opposition and that stance will not change' according to a spokesperson for Planning Minister Richard Wynne. (Docklands News, Issue 108, p7)
The tram bridge was strongly supported by the City of Port Phillip to bring public transport into the Fishermans Bend precinct. It was equally strongly opposed by residents of Yarra's Edge as it would have cut off the Marina and cut through Point Park.
January 20, 2014
Point Park is the small open space for the apartments at Yarra's Edge. It's well used – and well watered judging by the softness of the grass after the heatwave. It is also the place for the suggested tram crossing of the Yarra River in the Fishermans Bend Urban Renewal Draft Vision.
Flying a kite is a powerful symbol of freedom and grace. My own memories are of great frustration trying to get a kite into the air, and frequent crashes to earth. In yesterday's gusty conditions, this kite was experiencing all these problems, but would occasionally soar.