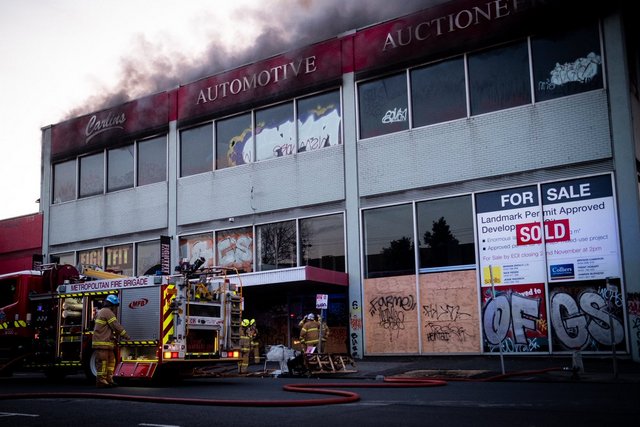 Focus on Ferrars
Update
A fire engulfed the former Carlins showroom (corner Kerr and Buckhurst Sts) in Montague about 6pm this evening, Thursday 23 August.
Twenty firefighters attended the blaze which was brought under control at 7.08 pm.
Focus on Ferrars
I'm always reluctant to leave Port Places, but the return makes up for it. Even after a short break familiar places become fresh again. Changes stand out against the background of continuity.
Before the daily news was overtaken by Prime Ministerial leadership challenges, people were arguing in the Age about the pronunciation of Castlemaine: Casselmaine or Cahstlemane? Such heat can also be generated about how to say Ferrars St. In a recent talk about the former life of Montague, we were firmly reminded that back then it was Ferrers (with the emphasis falling on Ferr), rather than Ferrars (with the emphasis on the the second syllable).
The Ferrars St Education and Community Precinct is exerting its catalytic influence – featuring prominently in marketing for developments nearby. Kirirp Park next to the South Melbourne Primary School is upside down with excavation with the framework of the park emerging.
In and around the Ferrars St precinct, the new emerges and the old recedes.
The place that loaned the lawnmowers, a service most definitely not needed in Montague, has been replaced by a vertical garden shop.
Bicycles, homewares, kitchen appliances and home stylists replace mechanics and car repair shops.
Several 8 level developments are underway in nearby Thistlethwaite St, South and Lilix, while Fifteen85 opposite the park  continues its marketing campaign. South Melbourne, and South Melbourne Market, feature prominently in the marketing.
South.
This is how South Melbourne people have always referred to their place.
This week a revised application for 171 – 183 Ferrars St, just a few doors down from the Primary School, returned to Port Phillip Council for its views. A permit for the site was granted by the Minister for Planning for a 20 level building way back in July 2015. Note the changes proposed from the original application: down from 122 dwellings to 67 (a reduction of 55 dwellings) and now including 43 x 3 bedroom apartments (originally 2). A publicly accessible through block link from Ferrars St to Railway Place is required.
One affordable housing unit is proposed.
Notes
City of Port Phillip Planning Committe, 171 -183 Ferrars St, South Melbourne, 18 November 2014
City of Port Phillip Planning Committee 171-183 Ferrars St, Southbank, 22 August 2018
South by RotheLowman, Lilix by SPEC Property