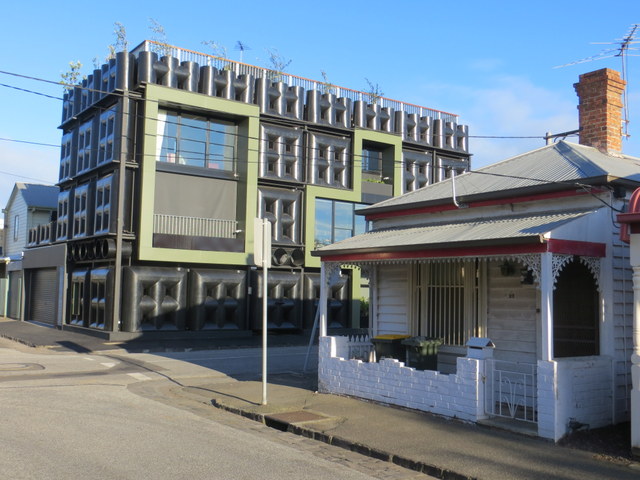 Folly and Modesty
21 Alfred St, Port Melbourne
I believe that Grand Design aired the episode that featured this house recently. This is the post I wrote about it five years ago, on 21 August 2014.
H House in Port Melbourne was featured in The Age on Saturday 16 August.  It's tucked away in a corner of Port Melbourne that you would be unlikely to walk past unless you lived there.
I feel conflicted about this house. It's fully sustainable but I still feel uncomfortable.  Perhaps it's the loss associated with having known the former occupants of the modest house known as Folly Cottage. Its narrow hallway and small rooms were crammed with things from the long rich life of Janne Ray and her family. Janne was a storyteller. Unusually for this part of the world, the house had a yard and a single gum tree. It also had a sleepout.
This part of Port Melbourne was settled relatively late – after 1870 – when development spread west of the railway line. The lots are small, as are the houses – a pattern that has been picked up in (some) more recent development.
At the time of the planning approval process in 2011, the house on the corner of Alfred and Union Street was not covered by a heritage overlay. No permit was needed to demolish the house. Around that time, the City of Port Phillip commissioned a review of Port Melbourne's heritage overlay. The review said of the area around Albert and Alfred Streets:
'Interestingly, with relatively few exceptions, where new development has occurred in this broad area, this development has retained the existing lot size and subdivision pattern (as single lots have been redeveloped) and in some cases the new building stock has been of a related scale and even of similar form and materiality to the existing. The area also retains its street layout, including small-scale lanes and in many cases, early street surfacing. As a result, while not as intact in terms of heritage fabric as it was in the mid-1990s the area as a whole still retains a particular character that is generated by its street layout and surfacing, small lot sizes, and modestly scaled residences.'*
Howard Raggart of ARM uses the words 'oasis' and 'enclosure' in describing the H house and the interior space created by the external walls.  Its explicit sustainability features defend the house and its occupants against the harsh climate ahead.
Modesty is a rare attribute in Port Melbourne these days.  Yet modesty is also an attribute of sustainability.  Brendan Gleeson, in his book 'Lifeboat Cities' pleads passionately for us to get into the boat towards a climate resilient future together. As he says 'Life in the future may not be bleak if we value the many good things that will flow from a society refocusing on modesty, solidarity and fairness.'
I think this sustainable look at me house would be better suited/sited on a prominent corner where it would stimulate urgent conversations about sustainable housing.
My unease is not about ugliness, some people's concern, but about scale. The house denies its context. Some architects like juxtaposition and contrast but I prefer planning words that express some of the qualities of relationship that feel so absent here – words such as 'respectful, harmonious' and integrated with the surrounding character.
Is this house a folly of our time  – darkly playful in such serious times?
What do you think?
Update
The waterwall house in December 2019.
Source:
Lovell Chen 2011 Review of Heritage Overlay 1: Outcomes and recommendations prepared for the City of Port Phillip