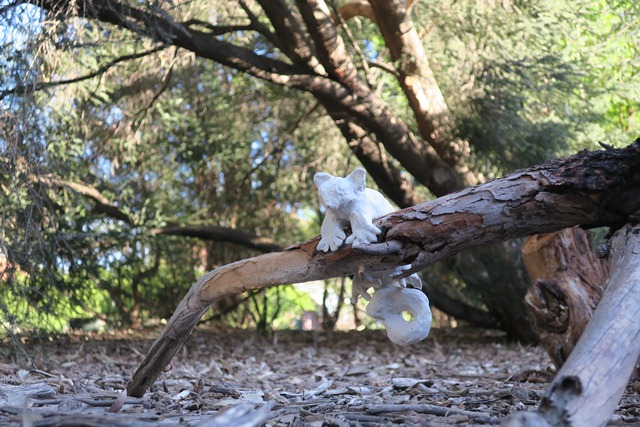 From Nature at Gasworks 2017
From Nature, the organic sculpture exhibition at Gasworks Park, invites you to experience the Park differently. Usually the gathering grass is the focus for sociability. The 39 works find homes around the edges of the Park – on walls, hanging from the trees, in nooks and niches.
Loving words, I was drawn to the artist statements first. Each one was moving in its own way – distilled insights into the artists thinking. Some work deals with ancient themes – the rhythms and cycles of nature, whereas many others deal with the wide range of environmental issues facing us.
Here is a brief introduction to just three of the works to whet your appetite for a visit before the exhibition closes on 12 November.
Ursula Dukiewitz has uncovered the perfect forest setting for her work on the many threats facing species such as Leadbeaters Possum – habitat loss, drought and fire.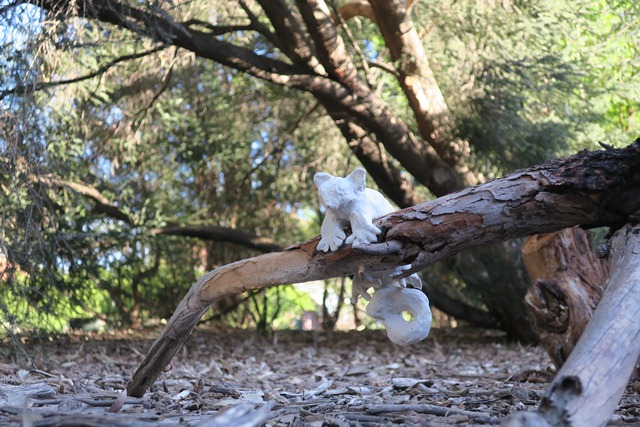 Sione Napi Francis, creator of the work Angel which looks over Gasworks Park, explains that the making of the Hawaiian lei is as important as the giving. I think that expresses the spirit of much of the work created for this exhibition. Francis's works goes from the front yard – he harvested the flax from his neighbour's garden – to express connection with Australia, Tonga and Aotearoa (New Zealand).
Elizabeth van Herwaarden and the children from Candlebark School have worked with the findings from Peter Wohlleben's The Hidden Life of Trees by making roots visible and exploring that mysterious process whereby plants convert the energy of the sun into stored chemical energy.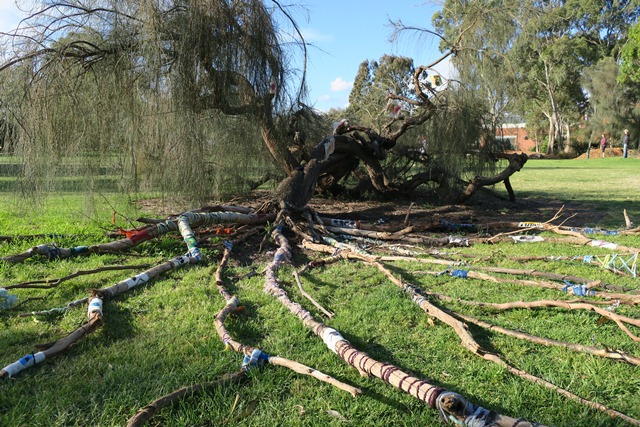 Also look out for Janelle Humphries Kelp Evolving. Kelp looks like leather. Through repeated wetting and drying, Humphries moulds and stitches intriguing pods, cups and purses of kelp which becomes translucent. Spinning in the wind with the sun shining through them, they have a resin like quality.
The one thing that was missing for me was work that explored the nature of here. Perhaps next year.