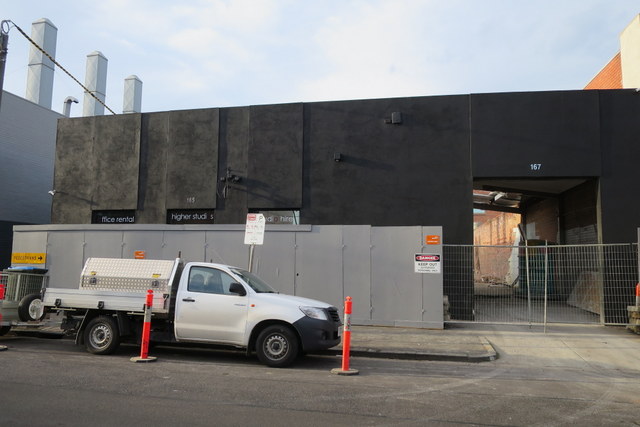 Gladstone Street, Montague
The redevelopment of Montague in the Fishermans Bend Urban Renewal Area has begun in earnest in one block in Gladstone Street.
After a period of uncertainty between governments, applications are being assessed according to the interim planning controls announced by Minister Wynne on April 17th. The applications in this section of Gladstone Street were considered and approved by the City of Port Phillip.
No sooner were permits issued than projects got underway.
Here is a visual summary of the state of play in one block of Gladstone Street between Boundary and Montague Streets in June 2015.
179 Gladstone Street 
Between old and new – bearing the dual identity of Romsey and Custom.
179 Gladstone Street – Custom South Melbourne
(approved by the City of Port Phillip on 21 April 2015)
Architects Jackson Clements Burrows
7 level building
16 dwellings
1 bicycle parking space per dwelling to be located on the ground floor
1 visitor bicycle parking space
a maximum of 10 carparking spaces
To see the plans and elevation drawings visit the City of Port Phillip website.
188 Gladstone St
165-167 Gladstone Street – Nightfall
165-167 Gladstone Street – Nightfall
(approved by the City of Port Phillip on 21 April 2015)
Architects DKO
8 levels
45 dwellings
22 carparking spaces
30 bicycle parking spaces
For images of the development to be called Nightfall, visit the BPM website
More