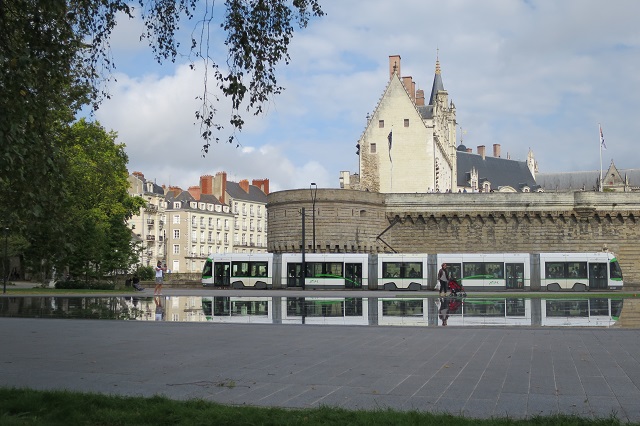 Green Nantes
The public spaces between Nantes Railway Station and the central city are exceptionally generous and of a very high standard. Walking, cycling, trees and trams take centre stage. As the Nantes website says 'Pedestrians are provided with optimal conditions'. The bike share scheme is very actively used.
Nantes re-introduced trams to the city in 1985. The tramway had been closed since 1958.
The 15th-century Château des Ducs de Bretagne is midway between the station and the city centre. An extensive plaza like space throws up intermittent small fountains and mist sprays. Throughout the day different age groups and configurations of people play through the space. Children delight, teenagers mess about, selfies abound. A camera is in every hand.
Informal seating spaces amongst wildflowers are located in very wide medians/traffic islands.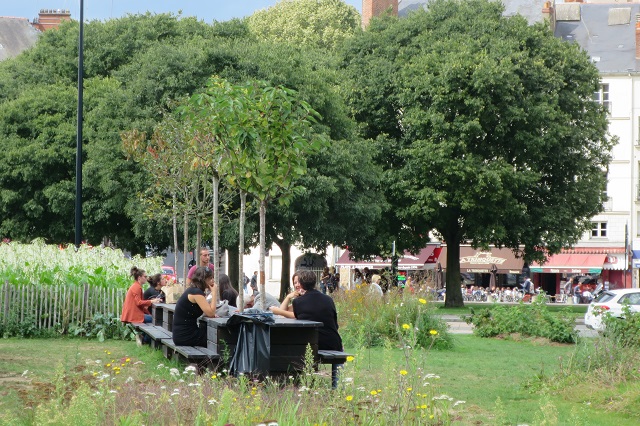 Nantes was the European Green Capital in 2013, awarded for its transportation planning, climate change preparation, active citizen engagement and consultation, approach to urban re-development, and embrace of nature and biodiversity. But I was most attracted to the City's motivation:  'It is possible to choose optimism rather than doing nothing. We must innovate, act, and decide together on our common future.'