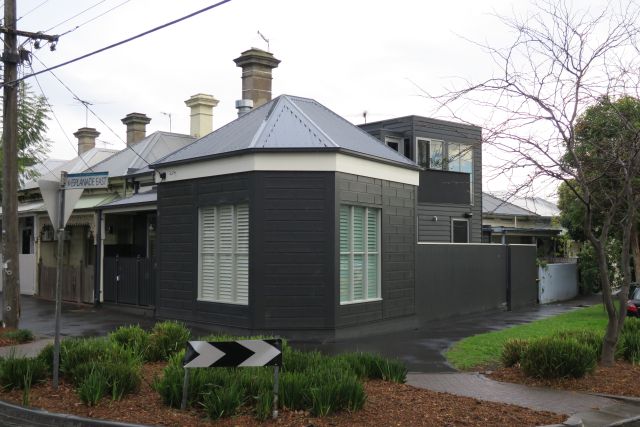 Grey reflections
'The sharpness of things is going to soften, disappear'*
It started when they painted the Rex grey.
And then I noticed how many other Port buildings were being painted grey.
The Beacon Cove Towers – grey.
Woodruff Terrace – grey.
The corner shop – grey.
And then there are the new cranes at Webb Dock – grey.
That set me to wondering about grey and why it is the colour of choice at this time.
Don't get me wrong, it's not that I don't think that grey looks smart. But what has happened that grey looks right and other colours no longer do?
After all, grey suits Port.
Station Pier and the beacon look at home in grey.
The Sandridge Life Saving Club and the piles of Princes Pier – all grey.
And the winter mood is grey, the outlook is grey.
What does grey mean?
In 2010, Lidewij Edelkoort, trend and fashion forecaster, spoke about grey in the Good Weekend in words so intriguing I recorded them in a notebook:
'I felt we were going to enter a new world of fusion between contrasts. Grey became a metaphor for the need for dialogue, duality osmosis: the need we sometimes have to burn our bridges; and create ash, to be able to build new things.
The sharpness of things is going to soften, disappear. There's going to be marbling, mottling, feathering, fluttering.'
Edelkoort also wrote in 2008
'the bestselling RAL color in history is reference #7035, a boring middle grey tone. Grey is the perfect fusion of black and white, the color of nuance and dialogue, and a metaphor for a mature and truly democratic lifestyle. The family of greys permits all other colors to lean against them, to underline or overshadow them. Grey is patient and flexible and an appeasing tone in times of change and financial crisis. … mouse grey paint everywhere may be the next small thing.'**
After pondering grey this week, I wondered whether grey offers a kind of safety in uncertain times. You can't argue with grey – its neither here nor there.
Some commentators are predicting a hung parliament at the general election on July 2nd – neither this, nor that.
What are your thoughts on grey?
More
More recently Lidewij Edelkoort has written an anti-fashion manifesto. It is a critique of fashion but also of our times. Here is a snippet to pique your interest, if like me, fashion is not a subject you usually read about
'the fashion world is still working in a 20th-century mode, celebrating the individual, elevating the it-people, developing the exception… in a society hungry for consensus and altruism'.
Li Edelkoort publishes manifesto explaining why "fashion is obsolete" Dezeen 2 March 2015