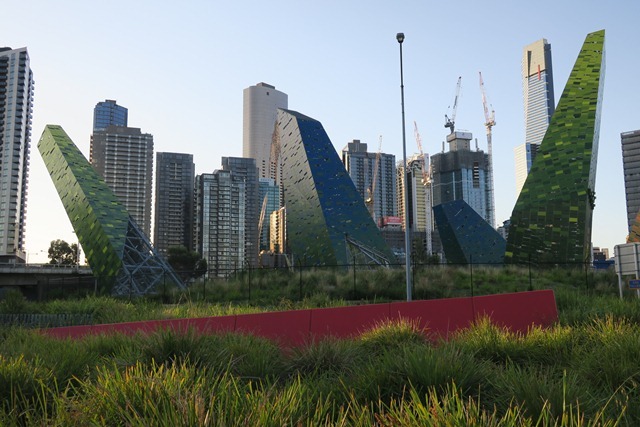 Habitat Filters
As public transport becomes more crowded and with the attachment to devices, conversations on the tram have become rarer but the no 1 is often convivial.
As the tram trundled down Sturt St towards South Melbourne past Habitat Filter, the woman sitting next to me observed "I don't like it". "It's ugly", her friend agreed.
Habitat Filter is a public artwork commissioned through a public art competition by Transurban for Citylink's Power St loop.
I do not take exception to Habitat Filter. It adds interest and colour to this foreground of Southbank. The work was developed in partnership with Landcare, and Friends of Westgate Park made suggestions for the choice of plants. But redeem that chasm of motorway that divides City Road from Sturt Street, it does not. It raises questions about the extent to which public art can be co-opted in legitimising projects to which one might take exception. The sustainability credentials of the project are described here.
At a forum on Urban Ecology: Design for Living Systems hosted by Foreground, participants Ron Jones and Reuben Berg discussed this question. Ron Jones savaged Habitat Filter, not as a public artwork, but for the fiction that it functions in a meaningful way as a habitat filter. Reuben Berg was more laid back, more philosophical. If a project is going to be built anyway, he said, "then try and have some voice to make it go in the right direction".1
Habitat Filter adds one more element to the Melbourne Recital Centre, the emerging Conservatorium, the newly opened Buxton Art Gallery, ACCA, the Vault and the Malthouse in transforming Sturt St.
The conversation overheard on the tram took place in the week that the Government placed planning controls on the Sturt Street spine requiring that the first four levels of any new building  be put to creative or cultural uses. The controls were introduced as several planning applications for residential towers along Sturt St threatened to compromise the way that Sturt St is evolving as part of the wider Victorian Arts Precinct.
Bit by bit, piece by piece, this is how urban transformation comes about according to Rob Adams,  Director of City Design at the City of Melbourne. He describes this approach as 'incremental urbanism' in the tribute publication to his work Urban Choreography.
After entering the fragment of urban forest on the corner of Pickles and Richardson St recently, I have begun to pay attention to and appreciate these unremarked 'habitat filters' – scraps of tree planting on road closures or road convergences which people  rarely access. There is another of these people free forests at at the end of Graham St where it abuts the freeway. You can't get to the Habitat Filter. Access is denied. It's an island in a sea of motorway.
Will these fragments of forest be respected in the Fishermans Bend makeover or swept aside in the wave of change? Or like Sturt St, could these small habitat filters be aggregated into connected landscapes to provide real and meaningful benefits?
1Foreground Urban ecology: Design for Living Systems (Part 2 of  2)