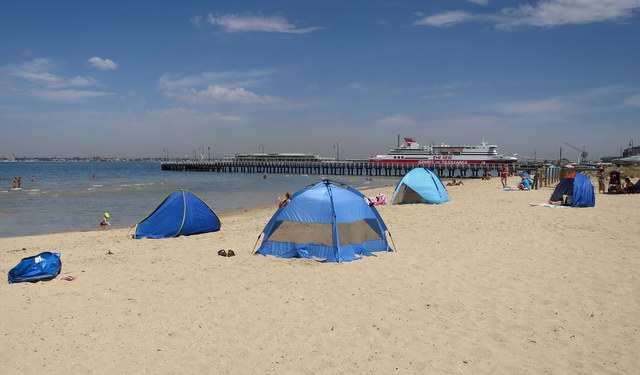 Hot Start to 2016
Welcome back to Port Places where it reached 41.9 degrees at 4.43 pm today.
The streets were quiet as though people had returned to the Christmas New-Year break from which they were just emerging. Tram route 109 is also strangely silent as buses replace trams while an accessible super stop is built at the Port Junction and capacity is added at the Southbank Depot. Bringing the Port and St Kilda stops together at Whiteman St/Normanby Rd is a long overdue improvement. The Yarra Trams website is definitive. The work will be completed at 4:30am on Friday is 15 January, 2016.
The annual cycle of celebrations and commemorations began on Sunday in Port with Theofania, meaning Epiphany. It commemorates the baptism of Christ in the River Jordan – a day of blessing – especially for 16 year old Lucas Fraccaro who retrieved the cross. Epiphany has joined awesome in descending from exalted vocabulary. A drone circled above getting the best view.  The long marquees gave welcome shade to moderate the hot concrete of Princes Pier.
Shade. Every sliver cast by a building, the crown of a palm tree, becomes precious in this hot weather. There are more umbrellas, more beach shelters.
I took a walk down the street after emerging from seclusion to see whether anything had changed since 2015.
Our Greek neighbour's footpath vegetable garden is extending further and further along the street. Each year brings renewed disappointment to this urban farmer. He rails against the birds and the changeable weather. He'll be ropeable tomorrow after the 41.9 degrees. His spectacular tomatoes have been reduced to a shell by the mynahs.  He vows not to plant tomatoes again next year, as I think he did last year.
Inside Coles, the space where the elderly Greek men used to gather on hot days has gone in favour of a Flybuys display and the self service area has got even bigger.
Fishermans Bend is dormant for now, but not for long.
The builder's skip that had gathered the street's end of year spring-cleaning was picked up today.
It's time to start again.
The day ended with the Spirit of Tasmania breaking her mooring in high winds. It took two tugs to guide her back to her berth.