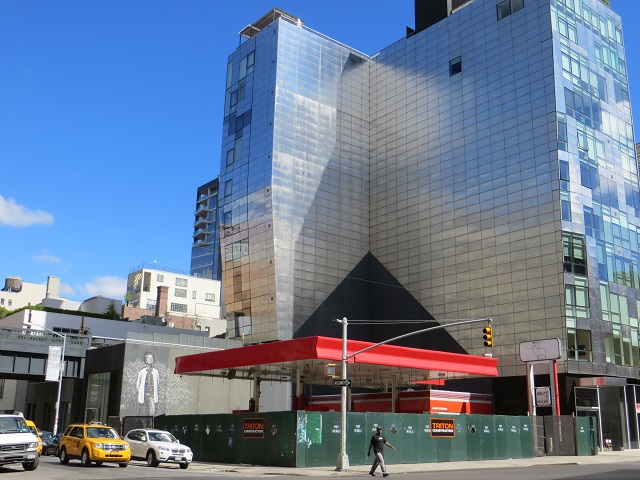 Housing Affordability
Sunday. Read the New York Times and find two articles relevant to housing affordability and Fishermans Bend.
The first concerned young people and student debt:
'For young people, moving to New York City hasn't made much mathematical sense for decades. The jobs don't pay enough, the internships don't pay at all, and he rents are prohibitive by any sane standard. But now add a new economic fact of life to that list: soaring student loan debt. More students are taking out bigger loans than ever before, and in the last 10 years alone, education debt tripled … A record number of college students are graduating knee deep in a financial hole before they begin their adult lives.'  (Natalie Kitroeff 8 06 2014)
The second relates to inclusionary zoning.
High housing costs in Manhattan are making it impossibly unaffordable. Rents rose 19% from 2005 to 2012.
Abington House, a new luxury apartment development, is under construction near where we are staying.  78 apartments in the building, or 20 percent of the total, are set aside as affordable housing under New York City's inclusionary zoning program.
The inclusionary zoning program is voluntary. Developers agree to set aside 20 percent of the units and in exchange, they are permitted to build 33 percent more square feet than is otherwise permitted.
Inclusionary zoning generated fewer than 3,000 new affordable units from 2005 to mid-2013. This has led some to argue that that it should become mandatory.
Mayor Bill de Blasio would like to make inclusionary zoning mandatory. He would also like to increase density. It seems that increased density is often resisted.
Barrow argues that 'mandatory inclusionary zoning and the related promise that any tall towers will contain affordable apartments, may be politically necessary to make added density possible.' (Josh Barrow 8 06 2014)
Imagine inclusionary zoning becoming politically necessary!
It is an approach that would be especially applicable in  Fishermans Bend.