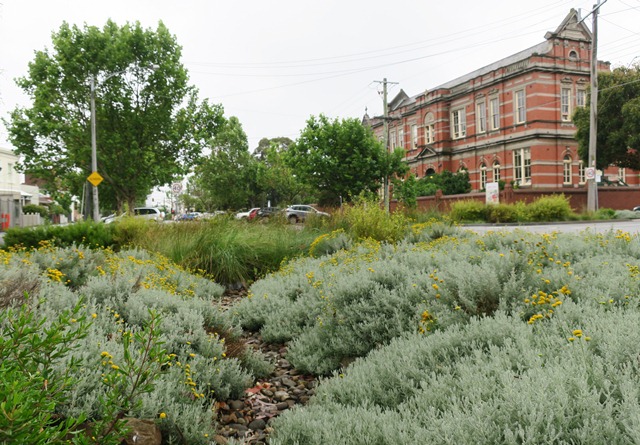 Jane's Walk 2017-2
Emerald Hill to Gasworks – the people and politics that shaped a landscape
Sunday 7 May 2017
Each year in the first weekend of May, walks are held in cities around the world to celebrate the legacy of influential writer and urban activist, Jane Jacobs.
The free walks are citizen led and intended to stimulate conversations prompted by the urban environment.
This year, I'm stepping out of familiar Port Melbourne across the border into South Melbourne to offer a Jane's Walk.
A little house in South Melbourne opposite the market, now a barber, was my first home when we arrived in Australia in 1987. Not knowing anyone, I spent a lot of time exploring the streets with my two year old. This was how I learned about South Melbourne.
But I had no understanding of how it had all come about – the grand Town Hall and the workers' cottages and the Australian trees with which I developed such an affinity.
Later, when I moved to Port (as Port Melbourne was often referred to then ) and became immersed in Port Melbourne life and community, I found out that in spite of their proximity, they were very different places with different histories, different communities and different stories.
There was Port and there was South and in the '80s there was increasingly Port'n'South, as these two municipalities began working more closely together to combine resources as their populations declined.
So South Melbourne's stories didn't feel like my stories to tell. But recently I've been having many rich conversations with people who contributed to the transformation of South Melbourne in the 1970s. They are stories I am longing to share because they relate so closely to themes in Jane Jacobs life and work.
The seventies
In the awful hiatus between the collapse and the re-building of the Westgate Bridge, the reality of what all that traffic was going to mean for South Melbourne became a hot political issue leading to the election of Councillors opposed to the the freeway that was planned to cut through South Melbourne.
There was growing disenchantment with the Housing Commission's high rise building programme. Thirty one level Park Towers was completed in 1969 – the last high rise built by the Housing Commission.
There was a new appreciation of heritage buildings. Rather than demolishing the small houses, Greek migrants and young people started renovating them and taking steps towards their planning protection.
The bleak streets were planted with native trees and the very first urban forest in Melbourne was planted.
And that's just to set the scene for the walk! It will end at Gasworks Park .
Other Jane's Walks in Melbourne
My previous Jane's Walks – Docklands to South Wharf  (2014) and Montague (2016)
More on Jane Jacobs
Adam Gopnik Jane Jacobs Street Smarts The New Yorker September 26, 2016
Saskia Sassen How Jane Jacobs changed the way we look at cities The Guardian May 5, 2016