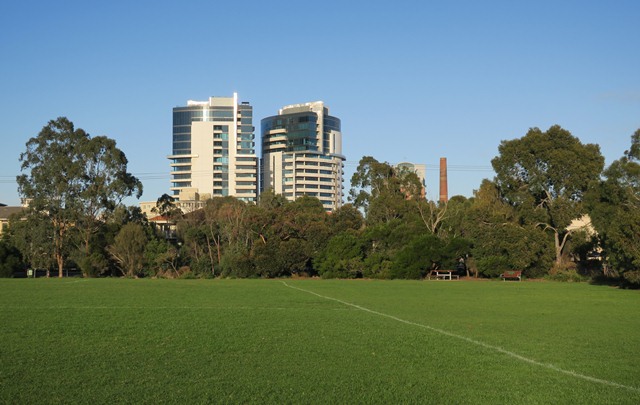 Lagoon Reserve
Lagoon Reserve is a small park in Port Melbourne that was once part of the Sandridge Lagoon.
How to describe the essence of this park?
It has people at its centre, and 'nature' at its edges. That grassy centre gets a workout every day of the week, all year round. A gathering place for people and dogs in the morning, followed by waves of Albert Park College students, and then the dogs return in the autumn twilight. On winter weekends the calls of soccer players escape the boundaries of the Reserve.  On summer weekends, children in white play cricket watched by their parent supporters.
Lagoon Reserve is fringed with trees, shrubs and ground covers. You can go off the beaten track even in a small Reserve like this!
This weekend, for the tenth year in a row, park neighbours will come together to add another layer of indigenous plants to the Reserve's edges.
Since this annual planting was held  last year, new research has confirmed the value of parks structured in this way.
Dr Amy Hahs and colleagues have been exploring what factors lead some species to persist in the urban environment while others disappear. They found  that six different groups of animals  – bats, native birds, exotic birds, bees, beetles and bugs – generally responded positively to an increase in native vegetation and the volume of understorey shrubs. Exotic birds also declined with increasing native vegetation. The structural complexity of vegetation was found to be important.
They also found that golf courses are rich areas for biodiversity. Golf courses have attributes that are similar to Lagoon Reserve – well managed grass playing surfaces surrounded by rough, less intensively cultivated edges. Understanding this will assist land managers to create  'pathways to persistence' rather than disappearance.1
In another study commissioned by the City of Melbourne, Dr Luis Mata (with many collaborators) found that by far the highest diversity of insect species was found in the mid-story (small to medium sized shrubs), followed by the tree layer, and then tall grasslands.  Mown areas of lawn supported the lowest levels of diversity. The study reminds us of the many functions insects perform in the urban environment – in soil health and fertility, pollination and pest control.2
Birds enjoy those edges too. On May 1st, local naturalist Gio Fitzpatrick observed several Musk Lorikeets at the Reserve. These birds visit when the eucalypts are in bloom, eating mainly pollen and nectar. He noted that Gasworks and Lagoon Reserve are "undoubtedly a useful stepping-stone for small birds moving from eastern Victoria to western Victoria and vice versa."
Lagoon Reserve provides an excellent demonstration of some of the findings of researchers into urban nature and is a happy example of how people and nature can combine.
The transformation of Lagoon Reserve also sparks a glimpse of the landscape of the Sandridge Lagoon before it became malodorous.
All this has been achieved in Lagoon Reserve, not by deliberate design, but by the patient annual application of care facilitated and championed by one woman – Alice Turnbull.
Tributes were paid to Alice at a gathering around the barbecue afterwards. In reply she said that it had 'been a joyful journey'. She acknowledged the 'stalwart planters' and affirmed that 'this park is important, this park is worthwhile'.
More
1Amy K Hahs Soft cities Making room for nature in our urban future Foreground
2Luis Mata & many others The Little Things That Run the City: How do Melbourne's green spaces support insect biodiversity and promote ecosystem health?
Pierre Horwitz How Urban Bushland improves our health and why planners need to listen The Conversation 4 May 2017