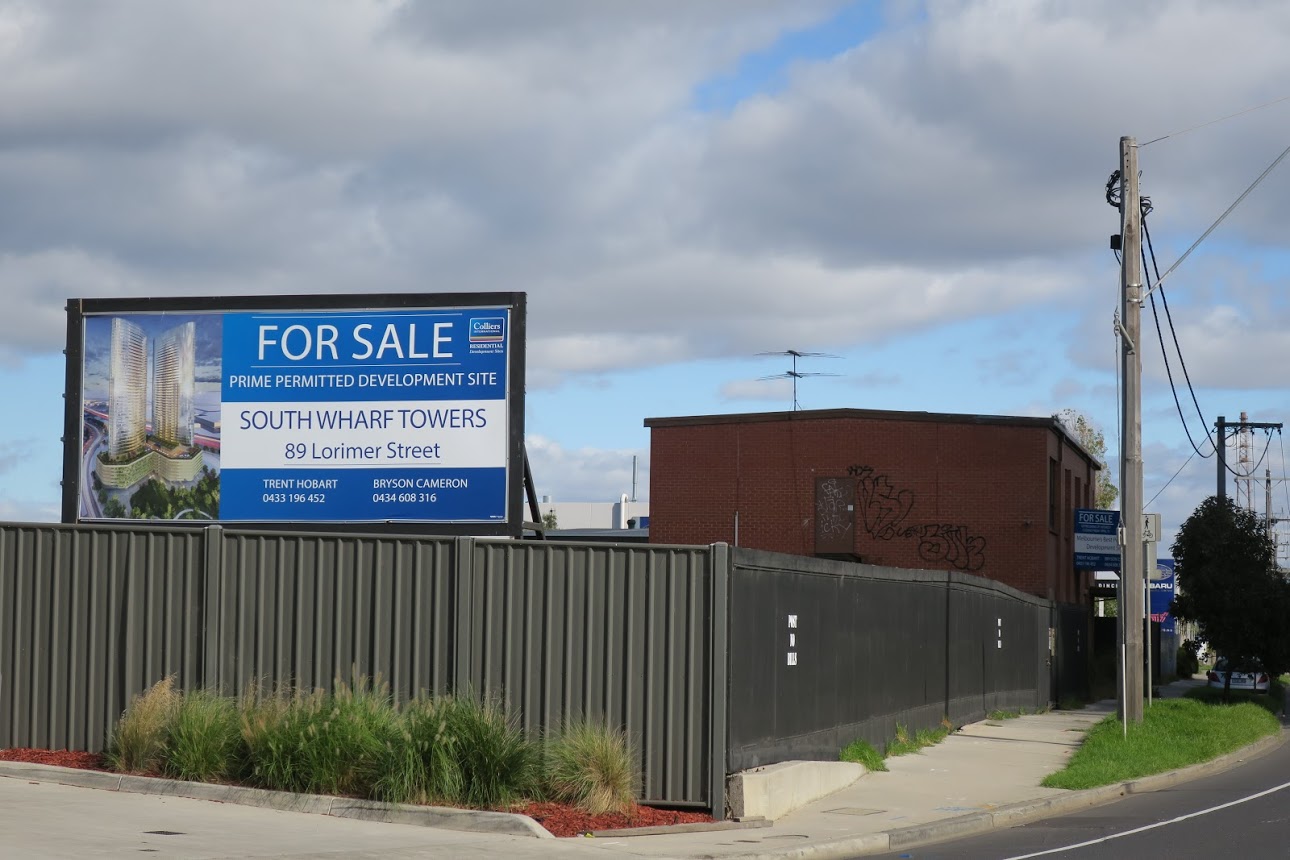 Little on Lorimer
3 May 2016
The site at 89 Lorimer St, with permit, has been sold to a Shanghai buyer for $60m, according to Mark Pallisco.
Little bought the site for $18.5m in 2014.
 9 March 2016
Paul Little has put this site with an approval for two towers of 47 and  49 storeys on the market, according to The Age.
16 July 20154
85-93 Lorimer Street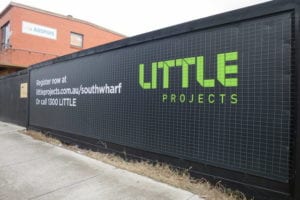 Following the introduction of interim height controls by the Minister for Planning Richard Wynne, the proposal for this site has been revised and a permit issued. Instead of one tower at 236m, it is now two towers of 47 and 49 levels as shown here.
The height of the original tower proposal had been strongly opposed by Yarra's Edge residents.
The towers will enjoy a range of community facilities.
Little Projects will build a 2100sq m park at the site and set aside land for a potential future tram corridor.
| | |
| --- | --- |
| Architects | Elenberg Fraser |
| Developer | Little Projects |
| Apartments | 940 (1, 2 and 3 bedroom) |
|  Site area |  8847 sq m |
More
Urban Melbourne Tall Stories and Big Little Projects on Lorimer Street 21 07 2015
12 October 2014
On Tuesday 7 October, the City of Melbourne's Future Melbourne Committee unanimously and enthusiastically supported an application referred by the Minister for Planning for 85 – 93 Lorimer Street. The site is in the Lorimer Precinct of the Fishermans Bend Urban Renewal Area where there are no height controls. The building height is 236.6 m.
The councillors were fulsome in their praise for the application for responding to the requirements of the Fishermans Bend Strategic Framework plan. A 2,300 sq m park is created by developer contribution.  An elevated reservation is provided for a future tram link as well as a shared pedestrian/bike path. The orientation of the site means that shadows are cast largely over the West Gate freeway and streets to the south. No apartments rely on borrowed light.
The Councillors were in no doubt that this development sets a precedent – in their view, a desirable one. As the referral authority, the Council had achieved all it sought from this development.Cr Mayne congratulated Paul Little for 'blazing a trail in this gateway site' by working with the Council within the guidelines of the Fishermans Bend Strategic Framework Plan and setting an example to future developers.
Are you as delighted? This application will set the pace for this precinct.
To view the Council report and images of the development go to Future Melbourne Council report, 7 October 2014
| | |
| --- | --- |
| Architects | Elenberg Fraser |
| Little Projects | developer |
| Building height | 236.6 m (over 74 levels) |
| Podium height | 29.1 m |