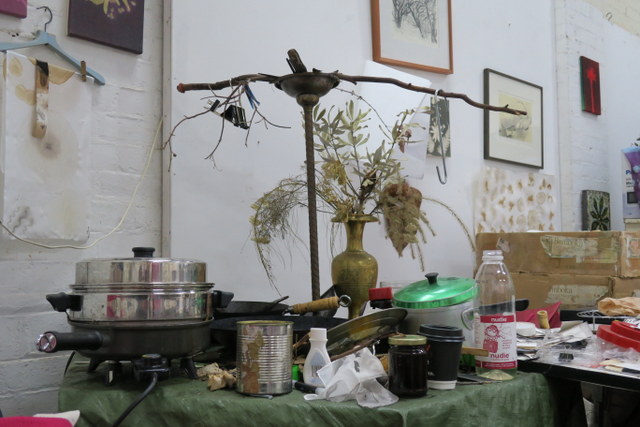 Making an impression
That's what artist and printmaker Liz Milsom has been doing in the Port Phillip community for over thirty years.
Liz is a local artist in the fullest possible expression of 'local'. Her materials and inspiration are the nature and materials of the nearby.
To enter her studio at Gasworks Arts Park is like entering a forest. Fallen branches of gum trees gathered locally line the entrance. Heady vapours of eucalypt waft from her studio. Things are brewing in her double boiler. A discovery of ecodying has impelled her into a wave of inquisitive experimentation with the properties of various local plants.
She is involved in a subtle form of alchemy, mining the unexpected colour and properties of local plants using ancient dying and tying techniques to print onto silk scarves.
A while ago on Port Places I complained about the flatness of grey but Liz's printed scarves extract and imprint the subtleties of grey – a very inadequate word for the shades distilled.
Liz's arts practice has evolved hand in hand with teaching art in community centres around Port Phillip.
Liz brings a quiet and calm yet enabling quality to her inclusive community arts projects, often drawing on local symbols that are important to participants. She has facilitated arts projects at many Port festivals, always finding a way of bringing about a collective result from many small contributions.
Talking with Liz encouraged a curiosity about mark making and what impression we make.
Follow her on Instagram @emilsomprintmaker to watch each unique scarf  revealed or visit her studio at Gasworks on Farmers Market Day – the third Saturday of the month.
Her scarves are for sale.