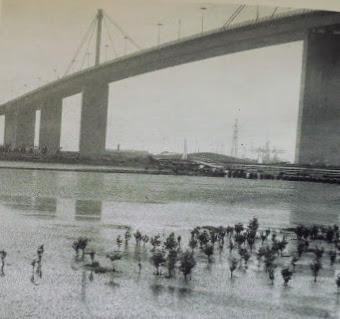 Mangroves
In about 1986, Mark Adams planted 15,000 white mangroves in the mud at Stony Creek under the Westgate Bridge.
Fifteen thousand!
Spelling out that number, not only because it's so huge, but because planting into the slipperiness of mud is about as difficult as planting conditions can be.
After a century of petro-chemical discharge from the industries located on the western side of the Yarra River, the Backwash was highly polluted and degraded.
Many of the mangroves died soon after being planted but it was more of a miracle that some survived at all. Today the mangrove forest is dense and abundant.
It was part of the restoration and re-imagining of the lower Yarra that also led to the creation of Westgate Park.
Mangroves have been called the ultimate giving tree. They are nurseries for fish. They stabilise shorelines and protect them from erosion. They protect their hinterland communities from storm surge. Their capacity to store even more carbon than terrestrial forests is exciting researchers with their potential to draw down emissions. Coastal communities in Bangladesh are being supported to plant whole plantations of mangroves. In recognition of their importance and many benefits, UNESCO recently declared a dedicated day for the conservation of the mangrove – July 26.
Back to Stony Creek Backwash
I've got a lot of favourite Port places, but the Stony Creek Backwash is right up there. The juxtaposition of saltmarsh, mangrove and Bridge is unique. A walkway between the mangroves leads to the River. It's a great spot for bird watching too – saw three white faced herons there this week.
The desolation of this spot might incline people who don't know it well to think it needs some 'fixing', some tidying up, but its wildness and sense of remoteness in the City is what people love.
While the West Gate Tunnel project does not directly impact the Stony Creek Backwash, it will affect neighbouring Hyde St Reserve. Friends of  Stony Creek put in one of the five hundred submissions to the EES, hearings for which began today.
If anyone can tell more about that plamnting at Stony Creek in the '80s, I'd love to learn more.
More 
Access the Stony Point Backwash from the Port Melbourne side of the River via the Westgate Punt.
Stony Creek Backwash Parks Victoria