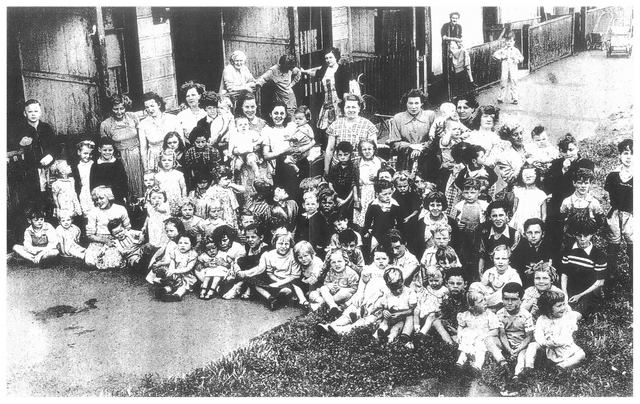 Motor Car Montague
Montague, now a precinct of Fishermans Bend, used to be known for the legendary strength of some of its waterside workers. Daniel Monagle, who died in 1962, worked as a coal lumper until he was 85 – he was one of the 'tough breed'. 
Montague was also known for the number of children living in each of its streets. Buckhurst, Thistlethwaite and Gladstone Streets all vied to be the Argus competition winners. Thistlethwaite won.
Cars were rare in the streets in those days so the streets were front yards where children played – those 'eyes on the street' made famous by Jane Jacobs provided by people sitting on the front verandah.  Each street was a community unto itself. 'A different street, a different crowd.'
When families moved out on Montague – assisted, supported, encouraged – their houses were demolished and businesses took their place, many of them associated with the car industry.
For a short time in the 'fifties, the goggomobil was assembled in Thistlethwaite St.  Parts of this very small car, designed by Hans Glas in Germany, were imported by Bill Buckle. They were half the price of a Holden. The fibreglass bodies were made locally. It was moderately successful until the advent of the Mini.
Montague is now dedicated to services to the motor car – car washing, car sales, car repair, crash repairs, car hire, car broking, car detailing. Had a crash? Chances are that in our area it will end up being repaired in Montague. In July 2017 there were at least 24 car related businesses.
The motor vehicle and all its needs is currently king in Montague.
The Fishermans Bend vision imagines a hugely different future – 80% of all transport trips being made by public or active transport.
Dan Hill from Arup, at a recent Living Cities Forum, painted a picture of this alternate future. Instead of seeing roads as fixed, an immutable feature of the urban landscape, he sees them as flexible. Rather than roads being used as quasi-carparks, he sees mobility as a service that can be provided more efficiently than with private motor vehicles. He anticipates transitioning away from car parking. The key is for autonomous vehicles to deliver their benefits publicly and collectively rather than just for individuals.
How will the plan for Fishermans Bend anticipate and plan for autonomous vehicles?
Even though carparking rates in Fishermans Bend are lower than in neighbouring Port Phillip, large parts of buildings are still being set aside for carparking that may, conceivably, not be required in the future.
We'll return to Montague at some point to see how many of those car businesses are still there.
Gyms are appearing in former garages as people attend to that most personal of vehicles – themselves.
Former Port Melbourne resident, Geoff Deed, worked on the goggomobil