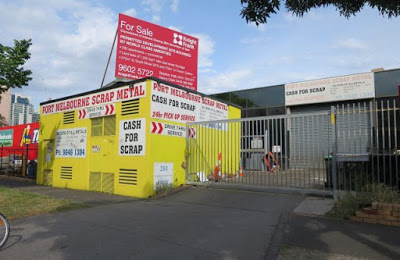 Moving parts
Some drivers waiting for the 109 tram to pass were intrigued by the scrap metal spilling from the backyard of a house in Ingles St, Port Melbourne. The house was sold. The business moved about 1km down the road to a site at 199 – 201 Normanby Road.
Frugal Ann M, who kept her depression learned habits all her life, would walk from her home in Middle Park to Normanby Road with a handkerchief clutch of nails and other metal she found as she walked around the area and exchange it for cash.
Trevor tidies up aluminium cans after the footy and gleans the streets of Port Melbourne for cans. He would take them to Normanby Road for cash. It's the closest arrangement we've got to a container deposit scheme.
But Normanby Road is the epicentre of Fishermans Bend's most intensive development applications. It's the location of most of the 26 planning applications called in by Minister Wynne in February 2018 that are still not resolved.
A planning permit for a 40 level development for the 199 – 201 Normanby Road site was issued as far back as 2014 by Planning Minister Guy.
The site was sold for $13.5m in 2017. Since then the plans have been re-worked to include an AC Marriott Hotel and fewer apartments (though still 40 levels). It is now known as Normanby.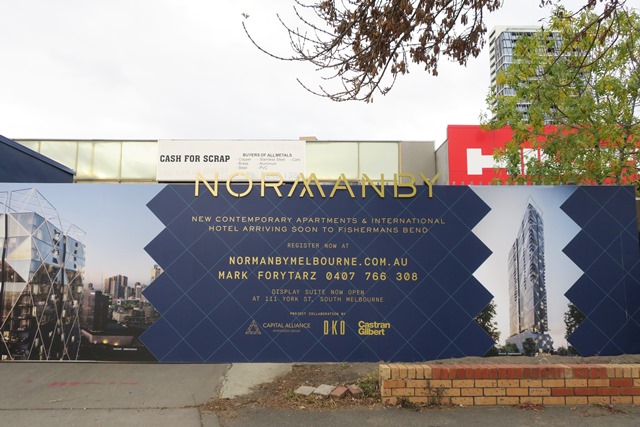 Port Melbourne Metals was on the move again. This time to the nether regions of Bridge St where it peters out at the M1 freeway.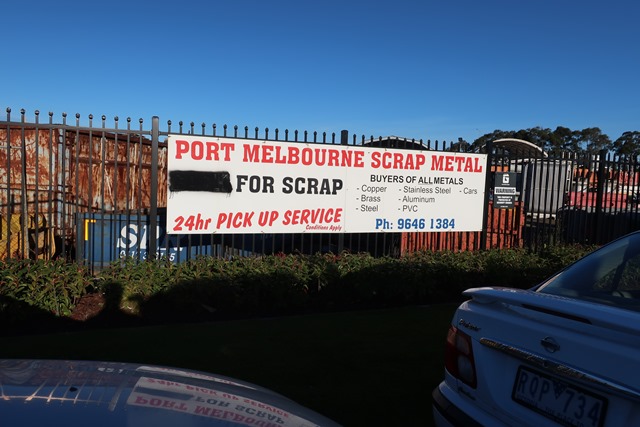 Now they have new neighbours – Citywide, the City of Port Phillip's open space contractors, who have recently moved from 477 Graham St to make way for the new secondary school in Fishermans Bend.
It's like a sliding puzzle. Whether there's a square in the long term for such a business in a capital city zoned Fishermans Bend with such high land values seems unlikely.