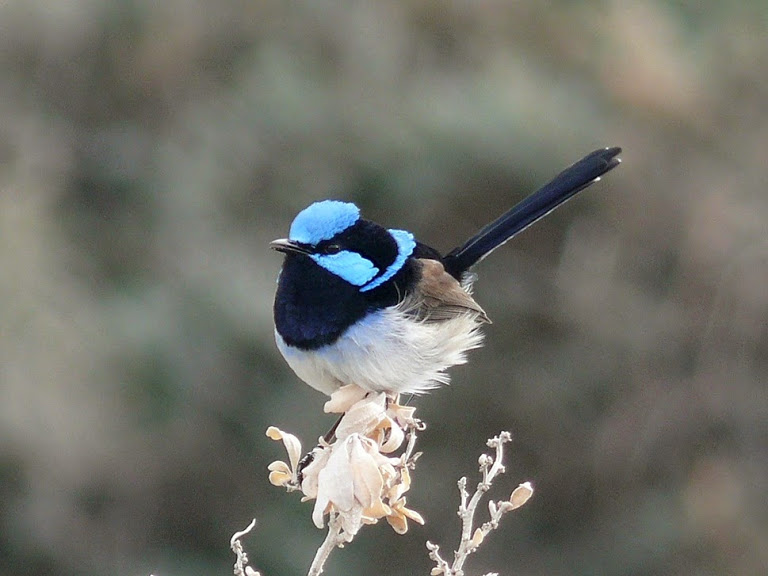 Nature in the City
In April 1949, fifteen year old Len Robinson and some friends caught the bus from Flinders St to Garden City and walked towards the Yarra River where Westgate Park is today looking for birds.
It was on that excursion that Len spotted two little green parrots he hadn't seen before sitting on a fence. They were Orange-bellied Parrots. That first sighting led to a life time of fascination with and dedication to these now critically endangered birds. Len was active in the OBP recovery programme until 2011.
This week, I caught the 48 tram from Collins St to Victoria Harbour in Docklands, the end of that line. It's only one block to Ron Barassi snr Park. The very lush green oval is fringed all around with indigenous plants. There are ground covers, thickety small shrubs, and well spaced trees. A wide walking and running track runs around the Park. I heard, or thought I heard, a familiar call but with the background of noise from the Bolte Bridge I wasn't sure. And then a Superb fairy wren hopped out of the vegetation onto the path and as quickly hopped back in for the protection that the carefully structured vegetation offered. Blue wrens eat insects so there must be a good supply in the Park. It's unusual to find Superb fairy wrens so close to the city.
Are the wrens newly there because of the appropriateness of the vegetation or were they already there from when the park was an out of the way neglected landscape? Will the wrens stick around as the population grows in that still quiet part of Docklands?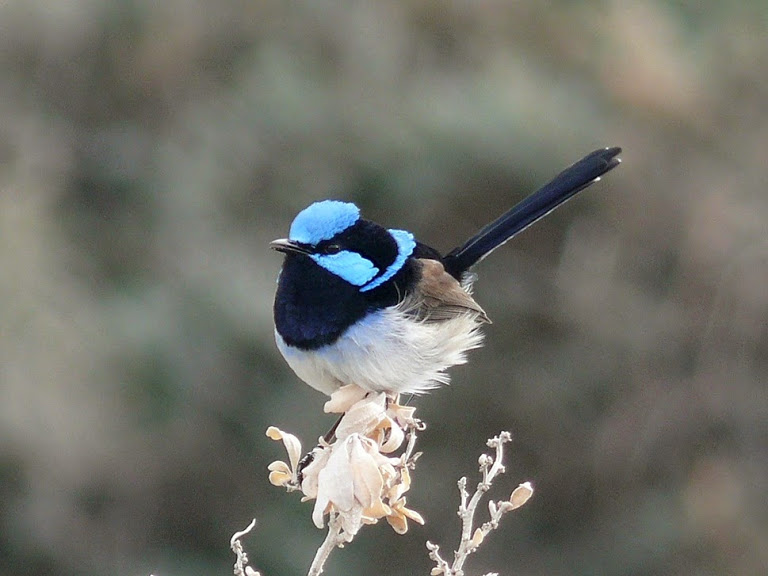 Westgate Biodiversity: Bili Nursery & Landcare (WBBNL) recently completed a two year study of the interactions between insect pollinators and flowering plants. The citizen science component of the project involved stopping in front of a designated flowering plant in Westgate Park and observing it for 7 minutes – 3 minutes being considered too short, 10 minutes too long. Participants were encouraged to observe quietly and mindfully to avoid disturbing the insects and to resist the temptation to reach for the phone camera. This simple protocol was challenging to a racing mind, but has become habit forming. Now waiting for a tram, or a meeting, is a time to put down rather than pick up the phone and gaze into the face of a flower.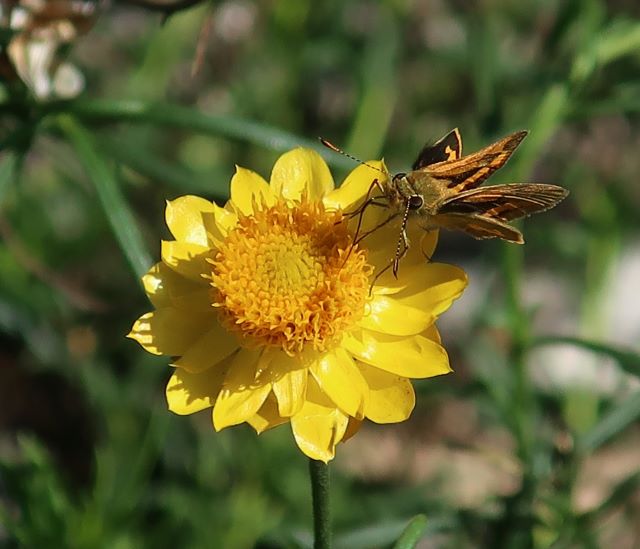 I also visited Kirrip Park, opened in 2018. It too is densely planted with indigenous vegetation around the damp edges of the Park. In less than two years, the plants are flourishing. Masses of small blue butterflies were flitting between the clumps of coast daisy. It is heartening that nature can return to places that have been devoid of vegetation for many years in such a short period of time.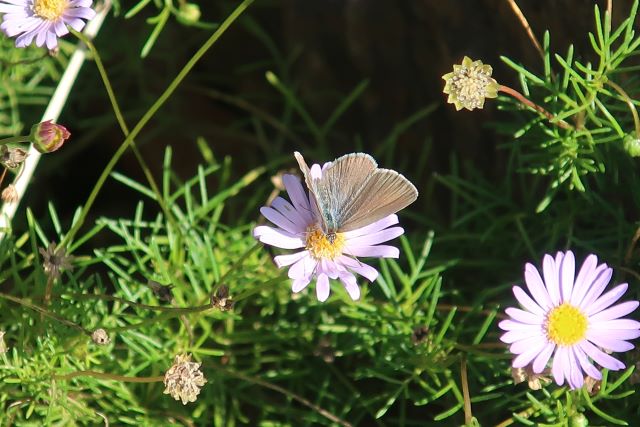 The Cities of Port Phillip and Melbourne are both enticing nature back into the city through planting up kerb extensions as well as parks and encouraging us to get involved.
Naturespot is a programme hosted by the Port Phillip EcoCentre in partnership with the Council. It is easy to record your sightings on the user friendly website if you too catch the observation bug.
More
Melbirds, featured in the Age this week, may have been written for children but is very useful if you're not confident about bird identification.
A conclusive report on the summer breeding season 2019/20 for the orange bellied parrot has yet to be prepared. The most significant news is that, of a total of 23 wild OBPs returned to Melaleuca in Tasmania, more than half were females.  Previously, very few females returned.
Trumped Up Corella Les Robinson celebrates a life time of fascination with the Orange-bellied Parrot Issue 5, 2013