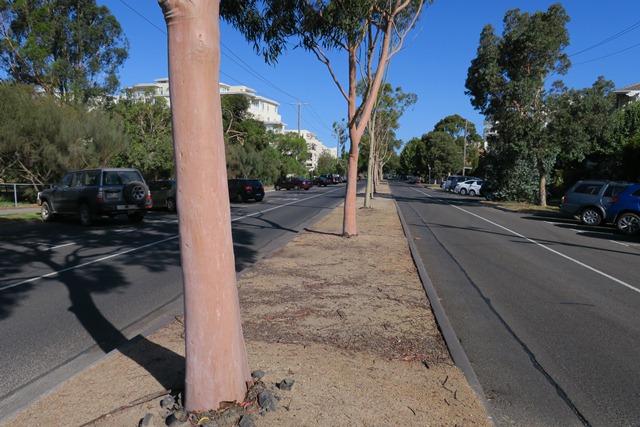 New Year 2018
I stepped out into the new year looking for the fresh in the familiar. Port Melbourne was looking dry and weary from Saturday's 41 degrees.  It was disquietingly dormant.
Then a cue came from an unexpected place – the line of young eucalypts in the Graham Street median. The trees are clean skinned and pink after discarding last year's bark.  The smooth trunks are like fine patterned fabric and their discarded bark like socks fallen down at the ankle. Here was the marker of the new year.
Looking more closely, I saw a trail of ants from the ground to the crown on high –  purposeful, busy. No congestion or collisions on this many lane ant highway.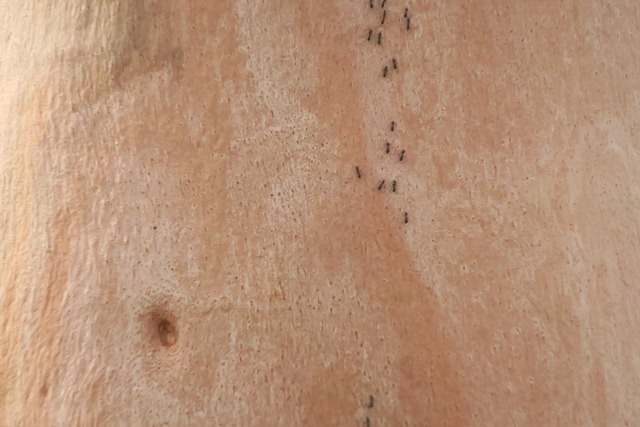 Teams of people are working just as determinedly to get the new primary school in Ferrars Street in Montague ready to receive its first students in a few weeks time.
While the building and surrounds may not be quite finished, the principal of the school, Noel Creese has been working steadily on creating the new school community since his appointment in February last year. Driven by a sense of 'deep purpose', he says of being the foundation principal: 'it's daunting, it's scary, but it's an honour'.
Work has also begun on the new park adjacent to the school. The northernmost section of Gladstone Street has been permanently closed to traffic and line markings indicate where the park site will be expanded through resuming some of the road way on Kerr and Ferrars Street.
The school was conceived to be self-sufficient in open space before the State Government and the City of Port Phillip acquired the the park site at 2-4 Buckhurst for $19m in 2015.
There is absolutely no doubt that the park is essential to the realisation of this integrated education and community precinct. The combined investments of state and local government are already shaping the development around it.
It's hard to believe that construction of the school only began in August 2016.
More
South Melbourne Primary School
Meet the principal, Noel Creese
City of Port Phillip Ferrars St Education and Community Precinct
The Gum Forest by Les Murray
Timeline
The Primary School opened on Tuesday 30 January 2018
Kirrip Park opened on Saturday 20 October 2018