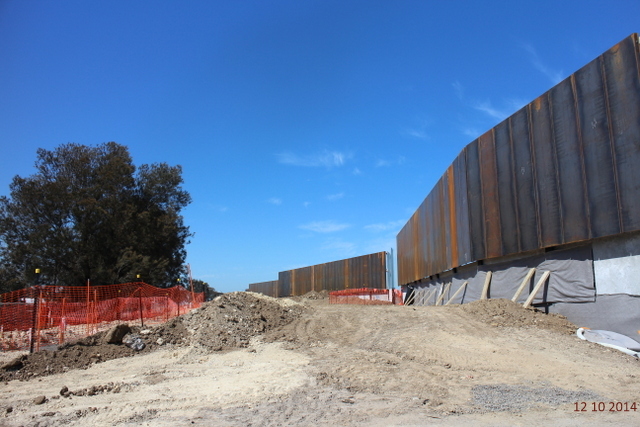 Noise Wall at Webb Dock
The conversation with the Port Melbourne community about the Port Expansion Project at Webb Dock began in April 2012. Two and a half years later, people's apprehensions about the project are being translated into a corten steel noise wall being constructed along the Todd Road boundary with the Port.
The wall promises to keep at bay the noise of the expanding Webb Dock which will handle the equivalent of a million containers each year.
Each day more of the wall is put in place. The associated landscaping and shared pathways are yet to come. Port activity will take place behind the wall out of view and, if the wall works, out of acceptable earshot. The boundary between Port Melbourne and the Port of Melbourne is becoming more clearly defined and less porous than it has been in the past.
The reality of the Port's  intensification will be experienced in the form of container trucks emerging onto Todd Rd through two re-modelled signalised intersections on either side of the West Gate Bridge.
Meanwhile, Perce White Reserve is turned upside down. The sand resembles the dunes that surveyor Darke spoke of when giving the name Sandridge to this part of the world. The sand is piled up awaiting re-shaping to continue the ongoing modification of this landscape.