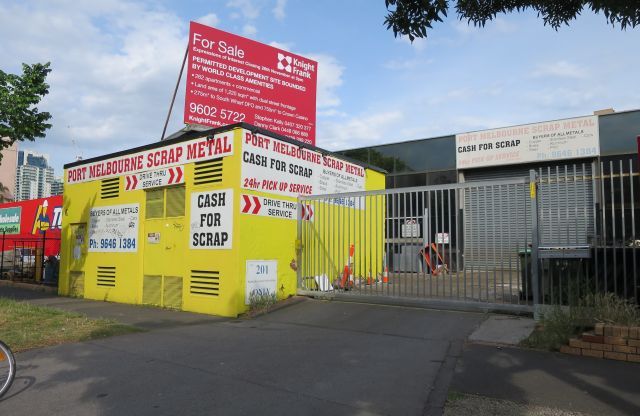 Normanby Road – the new City Road?
6 November 2015
Normanby Road the new City Road?
The high rise towers along City Road, Southbank are often cited as an urban outcome to be avoided, rather than repeated.
Yet a survey of planning applications suggest this is likely for Nomanby Road in Montague – with eight applications at 40 storeys. (see below)
The low rise, low key office-warehouses that line both sides of Normanby Rd were once part of Dunlops sprawling factory on the low lying land near the River. Huge coal stores on nearby South Wharf were on hand to power the factory. An overhead bridge across Normanby Road connected one side of Dunlops with the other.
A rush of land sales along Normanby Road have been followed by a spate of permit applications – some of which have already been approved. Following the introduction of interim mandatory controls by Planning Minister Wynne in April 2015, all recent applications are for the maximum limit of 40 levels. Hayball is listed as the architect in several of the more recent applications.
The low key buildings house all sorts of useful service businesses – one of the most valued attributes of Montague identified in City of Port Phillip consultation undertaken in 2011.
In the absence of container deposit legislation, a Port Melbourne resident gathers aluminium cans from the abundant supply discarded on Port Melbourne streets to be returned for cash.  The site is for sale anticipated to fetch about $20m. It already has a permit approved by Planning Minister Matthew Guy for a 40 level building of 262 apartments.
Hopefully, Jill Garner, the recently appointed State Government Architect, will bring a critical eye to these applications and what they may contribute to this transformed Normanby Road.
If this is to be the future of Normanby Rd, let's think about it and what it could be – a great entrance to the City. Normanby Road currently makes no provision for cyclists at all. The pedestrian crossings at Montague/Normanby, a key to the desired walkability of the area, strongly favour freeway bound traffic.
Woodgate Street which runs parallel to Normanby Road is currently a quiet alternative cycle route with pleasing vegetation spilling down the railway embankment.
So in assessing those applications, do consider the current useful function of the rear of Normanby Road, and plan for more than just the access and egress of cars.
More detail on Normanby Road
Street Address

 

Levels

Approved

Architect

Status

199-201

Normanby Road

40

Approved 1/09/2014

 

Minister for Planning

 

228-232,

234-238

Normanby Road

40

21/05/2015

 

 

DTPLI

216-222

Normanby Road

childcare

 

 

 

202-214

Normanby Road

40

 

 

Awaiting allocation

256-262

Normanby Road

40

 

Hayball

At referral

264 – 270

Normanby Road

 

 

Hayball

At referral

203 – 205

Normanby Road

40

 

Hayball

At referral

207 – 217

Normanby Road

40

 

Hayball

At referral

240 – 246

Normanby Road

40

 

Hayball

At referral

248-254

Normanby Road

40

Hayball

At referral
Source: City of Port Phillip
The City of Port Phillip's excellent website shows  the range of planning controls that apply to Fishermans Bend, and the permit applications.
City of Port Phillip A summary of planning permit applications overview as at 30 July 2015
Aisha Dow, The Age Not too late to fix Fishermans Bend, says government architect Jill Garner