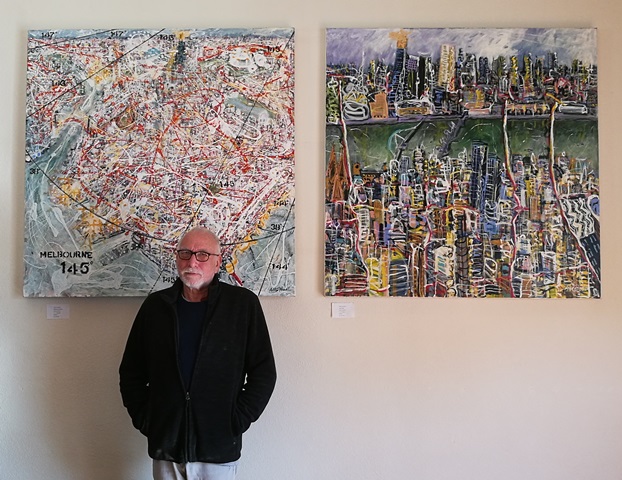 Painting the city
W.F.E. – Wilbraham Frederick Evelyn – Liardet had impressive twirling moustaches as well as impressive initials. Liardet and his wife Caroline and their nine children arrived on 'the Beach' in what is now Port Melbourne in November 1839. Unlike many others who passed through, they stayed, at least for a while – squatting on land and building the Pier Hotel. The place came to be so closely associated with him that it was known for a time as Liardet's beach before becoming the Borough of Sandridge in 1860.
In his lifetime, Liardet was known for the flamboyance of his character and his dress, his hospitality, his capacity for re-invention and an aptitude for sketching.
In 1862, Liardet painted View of the north shore, a panoramic work showing Hobsons Bay teeming with vessels of every kind: sailing ships, steam ships, paddle steamers, sailing boats, a coal hulk, a yacht and a fishing boat. It was an ambitious work, more sophisticated in scope and execution than his later water colours for which he is better known, according to art historian Alison Inglis.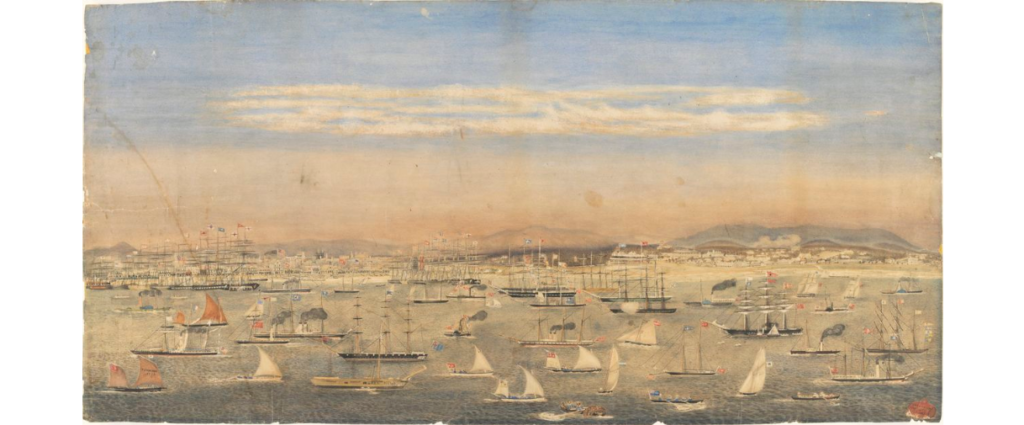 This rare painting had been held in a private collection since it was painted. Recently it was acquired by the State Library of Victoria after a fundraising appeal. 'This painting belongs here to the descendants and people of Victoria" said Kate Torney, CEO of the Library at the appeal launch.
Towards the end of his life, Liardet painted a series of forty watercolours in which he recorded from memory (and embroidered) narrative scenes from the early days of the colony. A Port Melbourne favourite is his omnibus painting of the Pier Hotel where he squatted in those early days and offered legendary hospitality. The hotel and jetty are the focus of the painting, while the people dispossessed look on from the sidelines.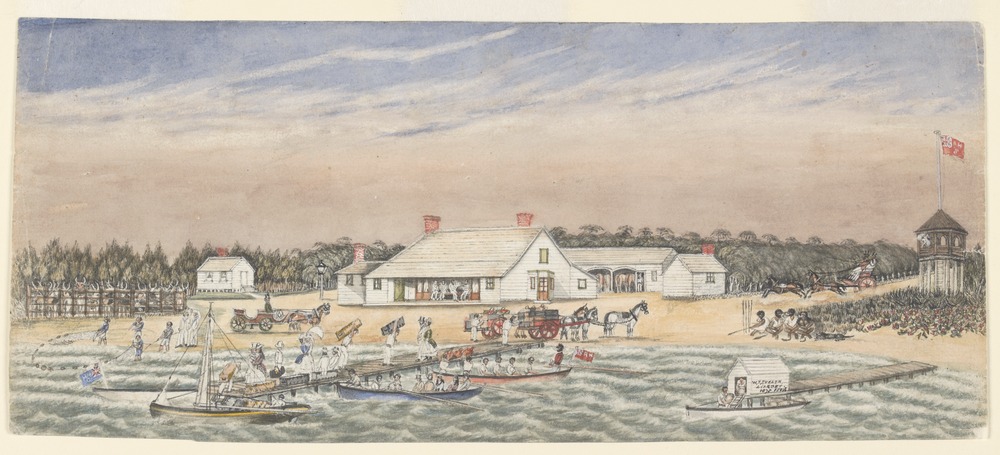 On offer was "superior accommodation for families and gentlemen, carriage conveyance to and from Melbourne. Saddle horses, carts and drays for the conveyance of luggage, good stabling and a stock yard. Boats to be had at all times, fishing and shooting parties attended with lines, nets and boats etc."
and in our time
Ted Powell, until recently a resident artist at Gasworks Park, paints Melbourne in another 'giddying' growth spurt.
The dynamic, rapidly changing city is his inexhaustible subject. He loves a broad canvas. In his paintings the city appears to teeter on the verge of chaos – colourful, dynamic and energetic. The aerial views offer a few familiar anchors: the Yarra's bridges, and the Eureka Tower. He likes that there is meaning embedded in that building – the gold crown representing the gold rush and the red stripe the blood spilt at the revolt.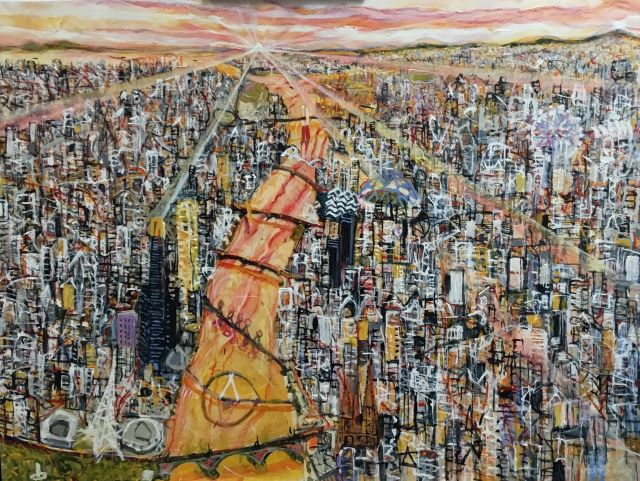 Sometimes looking back to the city from Lagoon Pier at sunset the Eureka Tower does turn to gold.
Being foremost a 'foot' person as Jane Jacobs described it, my favourite Powell works are his concertina artist books in which he documents familiar, yet changing, places.
Powell's method is to draw first and add the watercolour later. In the very same place in Port Melbourne from which Liardet would have painted his view of Hobsons Bay, he turns his observant eye towards the shore. Here is a scene of the Spirit of Tasmania, or 'the Spirit' as we know it, at Station Pier.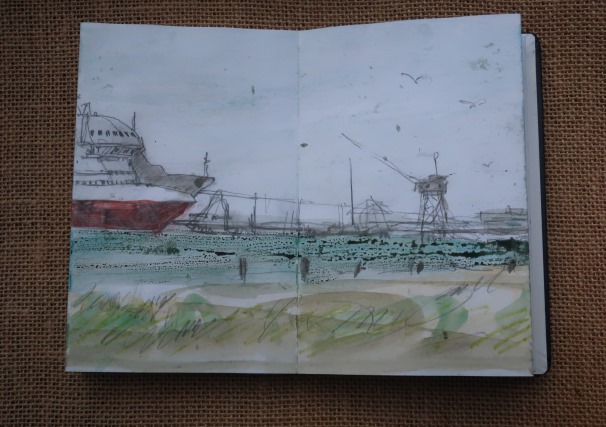 Like Liardet before him, he is documenting the city.
Powell has twice sketched the north bank of the Yarra at an interval of twelve years. These works are now held in the City of Melbourne collection. The City of Port Phillip has also acquired five of his sketchbooks which include scenes from St Kilda to Port Melbourne. Powell says of his artist sketch books 'They are not grand landscapes but small works dense with layers of local interest that I see around me. Pen plays on paper in vigorous and immediate strokes and documents the changing face of the City of Port Phillip in a magical sequence of tight frames that flow together with liveliness and spontaneity."1
Other examples of his work, like Liardet's, are held securely in the State Library helping to tell the ongoing story of Melbourne and Victoria.
More
Gay Alcorn 'Melbourne's bursting': why the population boom is dictating Victoria's election Fri 19 Oct 2018 17.18 AEDT Last modified on Sat 20 Oct 2018 00.34 AEDT
Michael Hiscock Wilbraham Frederick Evelyn Liardet
Romantic Visionary of the Beach 1839–62 The La Trobe Journal No 54 March 1995
Notes from the launch of the fundraising appeal at the State Library of Victoria 4 December 2017
1 Recent Acquisitions Port Phillip City Council Collection 2010