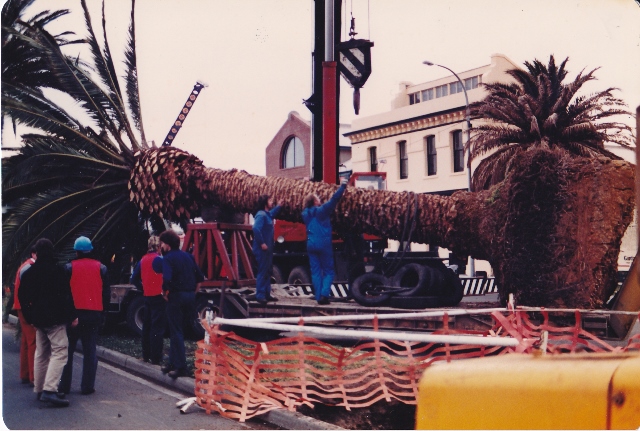 Palm trees in Port
Improving the Port Melbourne foreshore has been an enduring preoccupation of commentators, councillors and observers of the Port Melbourne scene for nearly a hundred years.
The Town Planning Commission's report of 1929 described Port Melbourne as a drab and dreary entry to Melbourne.
In the 1930s, Frank Heath, honorary secretary to the Town Planning Commission said 'What a difference a tree lined boulevard, extending for several miles around the esplanade would make to the Port Melbourne waterfront.'
It was fifty years before that idea was realised.
Before the Cities of Port Melbourne, South Melbourne and St Kilda became one City of Port Phillip in 1994, the foreshores of the three municipalities were all different.
Carlo Catani introduced palm trees to Catani Gardens, part of the beautification of the reclaimed St Kilda foreshore in the 1920s. Since then palm trees have always been associated with St Kilda – with fun, holidays and pleasure.
South Melbourne's beach front had the solidity and gravitas of blue stone walls. Port's foreshore walls at the time of amalgamation of St Kilda, South Melbourne and Port Melbourne were utilitarian and concrete.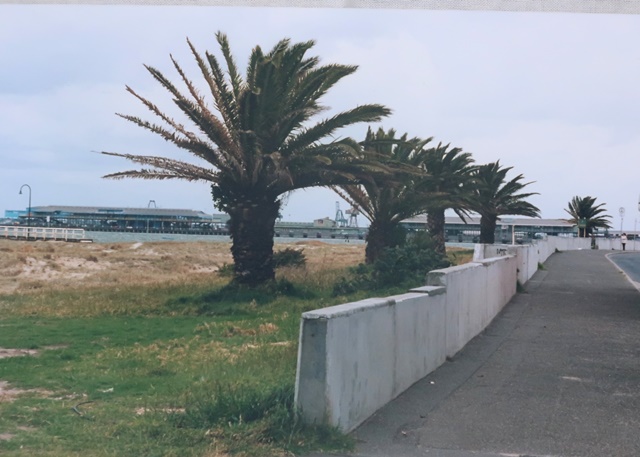 In the late 1970s, the St Kilda Council commissioned Tract Consultants to prepare a masterplan for the treeless foreshore. Eventually the landscaping scheme and theme was extended from St Kilda right through to Port. The intention of the scheme was 'to visually unify the foreshore' and 'to stitch together pockets of open space'.1
Canary Island Date palms (Phoenix canareinses) were sourced from gardens around Victoria via a donations scheme. People willingly donated palms that had become too big for suburban gardens.
By the late 1980s, the palm trees had reached Port. It was a massive task installing them.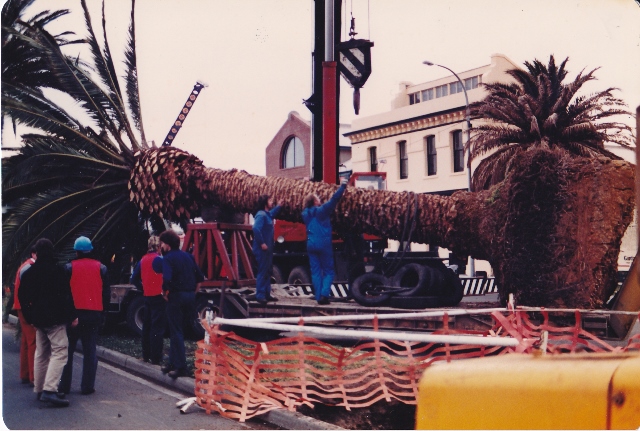 The palm trees took root and over thirty years have become a feature of changing Port Melbourne. They have also become home to cockatoos which roost in their crowns. Tourists from cruise ships are stopped in their tracks seeing lorikeets and cockatoos so close to the port. Locals have also delighted in the presence of these birds in the city.
The characteristic shrieking of cockatoos is not the only way their presence has been felt. In the crown of the trees, those cockies have been using their powerful beaks to prune the trees.
Over a long period this behaviour has caused such damage to some of the trees, that they had become dangerously unstable. They have pecked away more of the trunk than the palm can regenerate, reducing the circumference of some trees by as much as a third.
Earlier this week a notice advised of the impending removal of two trees. By Good Friday eve, they were gone.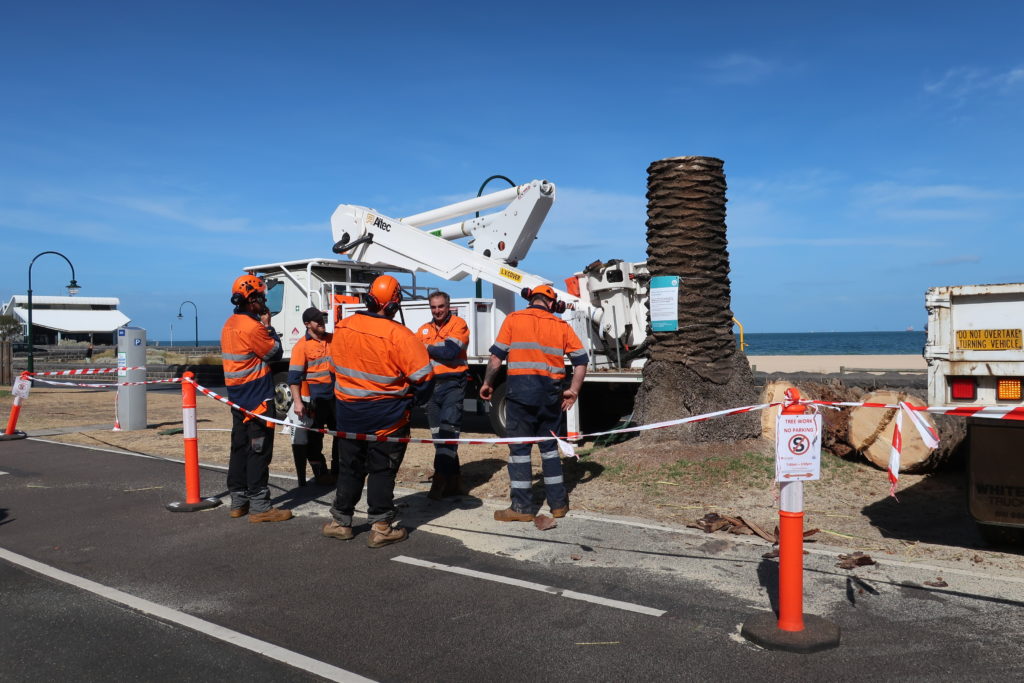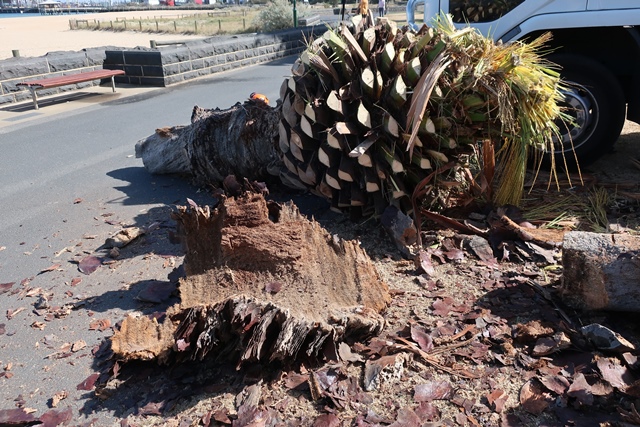 Preventing further damage is challenging. Barriers can be inserted into the crowns but the cockatoos can peck through just about any material. The trees will be closely monitored.
The trees that have been removed will be replaced.
More
1Steve Calhoun How Melbourne became the most liveable city in the world February 18, 2016
 The palmy days are over now Emerald Hill Sandridge and St Kilda Times 10 July 1986