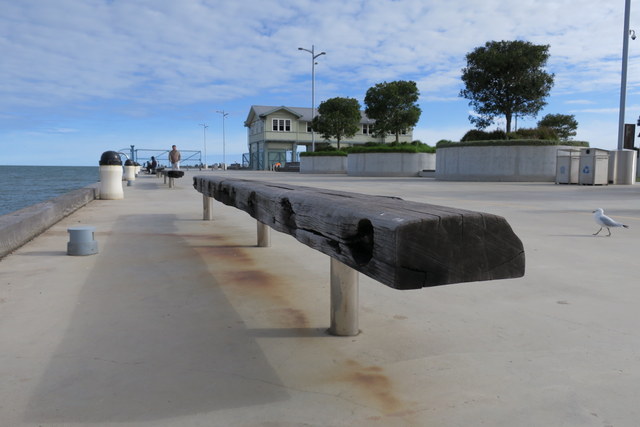 Piers Festival Adaptation
Princes Pier was to have come to life on Sunday for the 6th Annual Piers Festival but a severe weather warning means it will now be held at the South Melbourne Town Hall.
In between events Princes Pier leads a quiet life – its long smooth wide concrete deck well suited to walking and riding. The green plastic turf, which many people were dubious about, is favoured for fitness.  And there is fishing, always fishing.  Photographers are drawn to the sunset's changing light on the forest of piles and the Webb Dock cranes
Few people probably know or care after which Prince the Pier was named. King only briefly, this prince held uncomfortable views on race. But Prince is a pretty bland sort of name for a place and there isn't much of a mood to change it.
More meaning is to be found in the recycled pier timber benches that line the Pier. Each bench, quietly etched with the name of a ship that berthed at the Pier, opens a window into rich stories associated with those ships.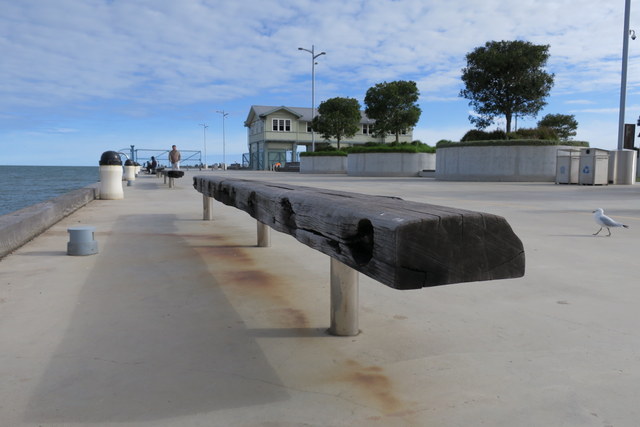 No bench is more heavily laden with meaning relevant to multiculturalism than the one that bears the name HMAS Kanimbla.  This was the very place on Princes Pier where HMAS Kanimbla berthed on 7 December 1947 carrying the first boatload of refugees from war torn Europe.  They had travelled from Bremerhaven to Fremantle on the General Heintzelmann where they boarded the Kanimbla. They were greeted on the Pier by Australia's first Minister for Immigration, Arthur Augustus Calwell.  They paused here only overnight before beginning their onward journey to Bonegilla.
Look more closely at these two photographs.
The first, and perhaps more familiar, shows a staged publicity shot of those first arrivals.
The second shows the postwar Port Melbourne world they would have passed through – the legacy of the war still very present in the form of the American shipping sheds along Beacon Road, and the newly completed, neatly arranged estate built by the Housing Commission from 1938 onwards.
The National Archives  of Australia hold  the personal dossiers of more than 170,000 people who came to Australia between 1947 and 1953 as displaced persons. These records of national significance are listed on UNESCO's Australian Memory of the World register.
Lella Carridi is on a mission. Driven by a sense of urgency that the stories of post war migrants may be lost, she is scouring Melbourne encouraging people to document their family stories.
Under the evocative title – Waves of Love and Emotion – a selection of these stories is displayed at the Emerald Hill Heritage Centre in Bank St, South Melbourne.  They are accompanied by treasured possessions that people brought with them on that first journey to Australia – a bread stamp from the communal oven of a home village, items made for dowries.
Perhaps there was a time when we took the stories of  postwar migrants for granted. Carridi's project invites us to give them our fullest respect. Multicultural Arts Victoria has strongly supported her project – through sharing stories that we may understand one another better..
Looking forward to affirming our multiculturalism at South Melbourne Town Hall on Sunday.