POPS
Last week I ascended the stair for the first time.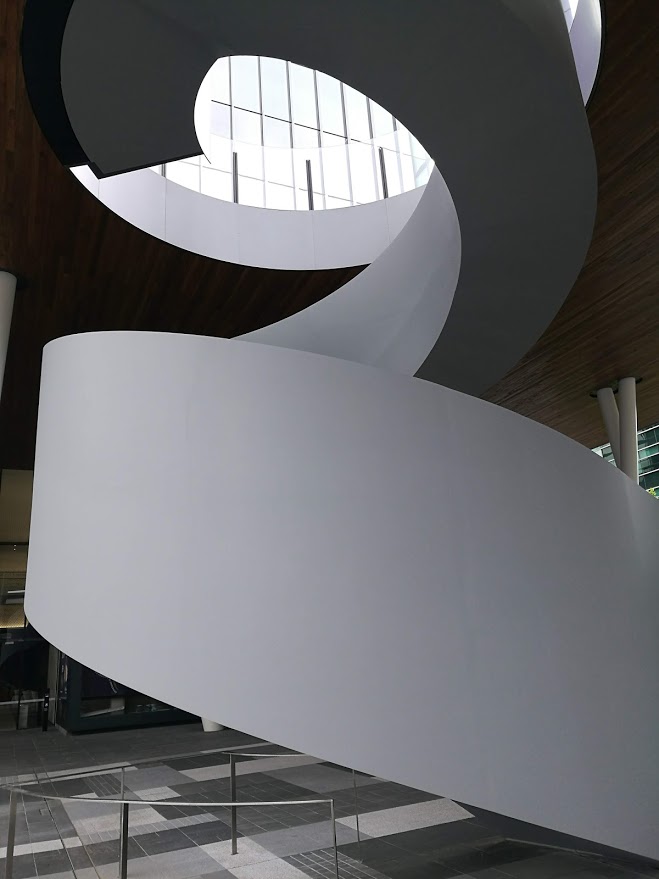 The instagramable Denton Corker Marshall designed stair leads to the Sky Park. I'd been keen, very keen, to see the new Park which opened earlier this year. It is just the first part of a 2,000 sq m open space to be delivered as part of the Melbourne Quarter development between Southern Cross Station and Docklands. The Sky Park and a laneway between Collins St and Flinders St are part of the public benefit conferred by this Lend Lease development that will accommodate 13,000 workers and 3,000 residents
when complete.
At present, the incomplete Sky Park juts out rather awkwardly eastwards towards the Age building that is not the Age building any more. You may know the Melbourne Quarter development better as the development that is decking over Wurrundjeri Way.
I'd tried to visit the Sky Park a few times, my heart quickening with the anticipation I'd felt in climbing the stairs to the High Line for the first time – only to find a polite ribbon pulled across the stair and a notice advising that access to the Sky Park is between 8 and 6 pm during the week and not at all during the weekends.
The occasion of my visit was to find out more about the considerable challenges faced by designers Oculus in building the Sky Park and how they went about creating the conditions that will enable plants to thrive in that exposed and elevated position. Plants that would grow in the difficult conditions and still give pleasure were chosen after intensive research.
Wisteria begins to twine the pergola. I can't wait for a few seasons of spring to see wisteria draping over Collins St.

Rather than dwell on the attributes of the park, my experience opened up an uneasiness, or a grappling as my friend Judy would say, with public access to private open space. It even has its own acronym, POPS (Privately Owned Public Spaces). The need for nature and open space in intensely densifying cities is universally acknowledged but public authorities may not have the funds or resources to create it. Developers can commission great designers.
Federation Square is a Melbourne example of such a space. Recent debates about its future uncovered the depth of feeling that Melburnians have for genuinely public places.
During Melbourne Design Week, visiting landscape architects showed inspiring projects of great vision and scope and spoke eloquently of their thoughtful rationales. Even as I was listening enthralled, an undercurrent of unease was murmuring: how did it come about? who paid for it? who looks after it and who pays for the maintenance?
These matters came up in questions. Garden designer Dan Pearson, speaking of his UK experience, said working with councils 'is problematic'. 'They just don't have the expertise.'
Thomas Woltz is deeply sensitive to the history and layering of places before beginning work on a project. In conversation with The Planthunter's Georgina Reid he spoke of the lack of public funding for these large landscape projects. 'There's no money. We're in dire straits. Philanthropy has stepped in.'
In 2017, the Mayor of London, Sadiq Khan initiated a Charter for
regulating the management of privately owned public spaces. It has yet to be adopted.
I returned to Port places to see council contractors mowing, trimming, weeding, mulching, planting trees and flowers, and I am thankful. I see council parks and playgrounds being systematically upgraded. Care is being taken.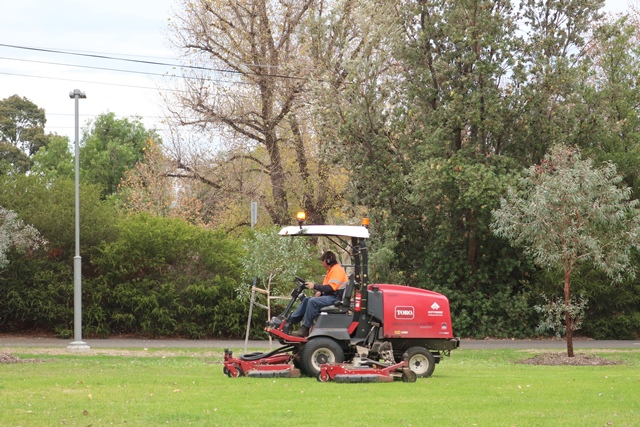 A holiday snap of a robot mowing a lawn in Edinburgh was a disquieting signal.
Do visit and enjoy the Sky Park but make sure its on a weekday after 8 am.
More
Georgina Reid Field Trip: Orongo Station with Thomas Woltz, The Planthunter 7 March 2019
Jack Shenker London mayor to draw up charter regulating pseudo-public space The Guardian 23 November 2017