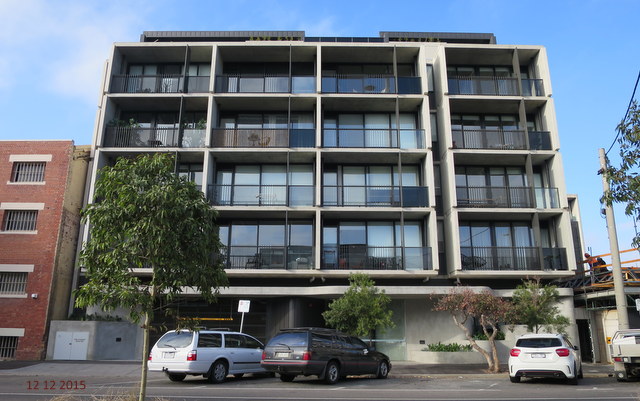 Port Houses in 2015
Here are some observations about Port Houses in 2015 
Median house price
In 2015 the median house price in Port Melbourne was $1,145,500.* In 1975, it was $21,500.
In December, the sale of a bank house for $1.81m generated a video of excitement for the irony that housing created for people of modest means is commanding such high prices.
Liveability
Port Melbourne was ranked 56 out of 131 suburbs on a liveability index prepared by Tract and Deloitte Access Economics for The Age, up from 132 in the previous five year period. It is an uncomfortable finding since liveability and unaffordability live so close together.
Fires
Fires have left a scar on Port.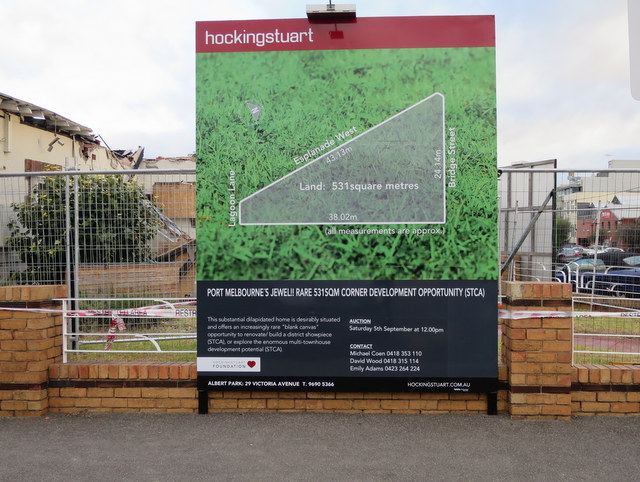 81 Bridge St (09 2014) has now become a block of land for sale rather than a house
Waterfront Place (14 09 2014)
The Hibernian (07 2010)
The former Port Picture Theatre (30 08 2015)
The Block
The most handsome block in Port Melbourne (at least according to me) is bounded by Johnston, Esplanade East, Rouse and Beach St. It has been developed according to the six storey limit which applies in this part of Port.  Two of Port Melbourne's most distinguished apartment blocks are in this block: Wood Marsh's The Beacon (2009), fairly described on their website as 'an elegant understated presence' and MINT currently under construction. Wood Marsh's offices are on the ground floor of the Beacon.
Also in this block is 63 Rouse St, formerly Kosdown Printing. The development was marketed as Evie. I was sucked in. Evie enticed. Her Scandinavian kind of look suggested bicycles and blonde timbers. Not quite sure about the claim that this building by Rothelowman is 'poetry by design'. No mention of Evie now. Just 63.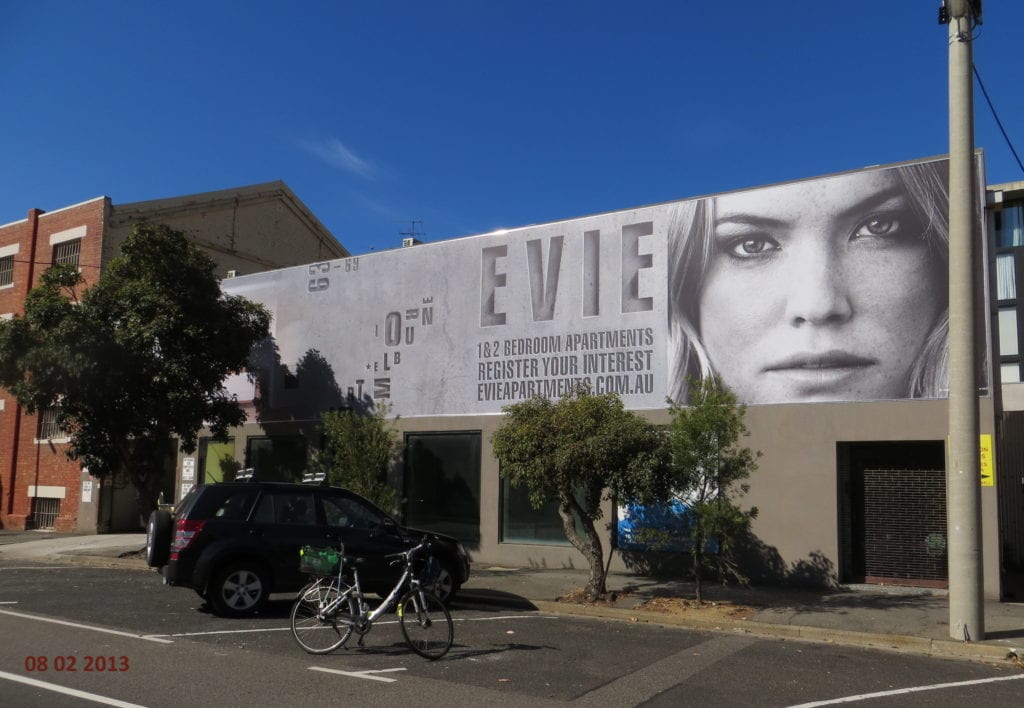 What was there?
The last remaining low key buildings that have housed people in more affordable settings are being re-developed – such as 286 Rouse St, to be re-incarnated as Sable Bleu.
Factories towards the north of Port that have existed side by side with Port's heritage houses for many years are turning over to residential development. These apartment developments, still in the permit application phase, will create a transition between the very high densities of Montague, especially in Normanby Rd, to low rise Port. Opposite the Port footy ground, their impact on, and relationship with, that key community space is yet to be seen.
New Life
Some houses that might have been demolished or significantly altered have been retained, refreshed and given new life such as 181 Esplanade West.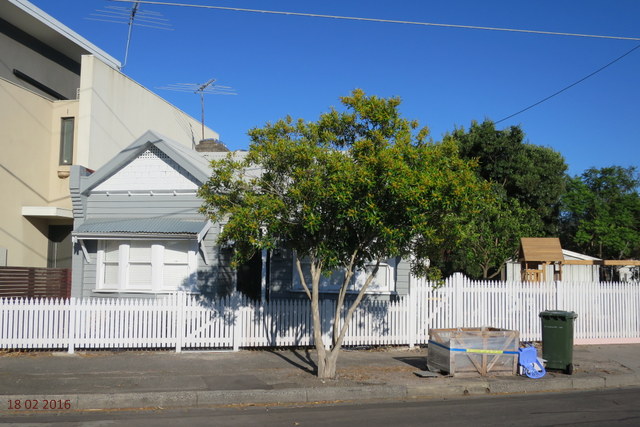 Greek influence
Traces of Port Melbourne's once large Greek population are diminishing. Houses such as this are becoming rare as are the distinctive gardens.
With no heritage protection and often on large blocks (for Port) they tend to give way to ambitious re-development proposals. Of course, these houses themselves replaced earlier housing.
Some houses in the Greek style have been re-worked, rather than demolished, such as this one on Pickles St.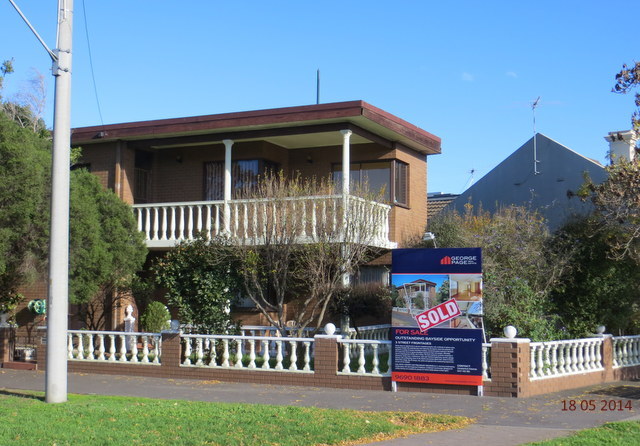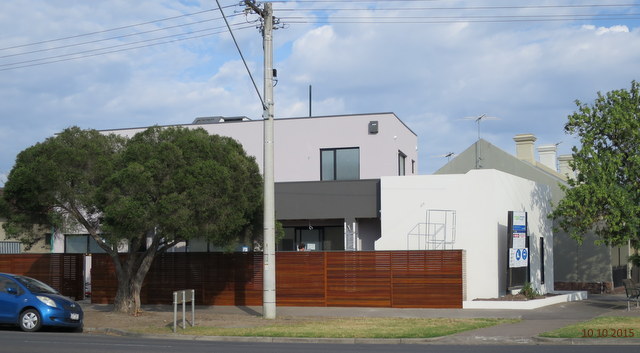 The post-war Greek migrants who made Port their home are passing on.
Respect
'Respect' is a term often used in planning, most often when highlighting its absence. I like the way these new houses have picked up the roof form of the neighbouring houses in Esplanade East – that's a respectful gesture.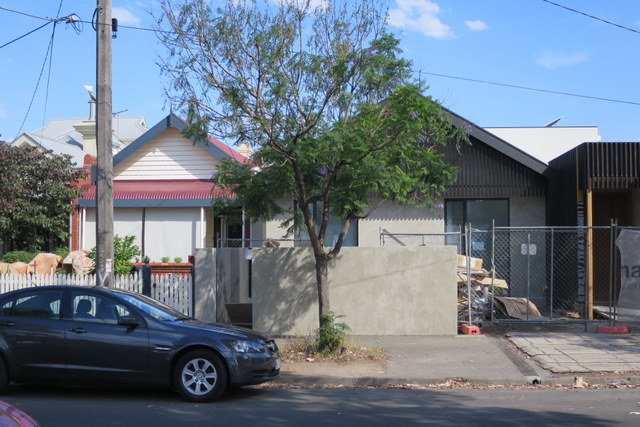 Lagoon houses
The inter-war housing alongside the shores of the former Sandridge Lagoon continues to make way for new development. On the respect side, I like the way the new houses catch that corner where Esplanade West meets Dow St – though a bit hard to see in the picture.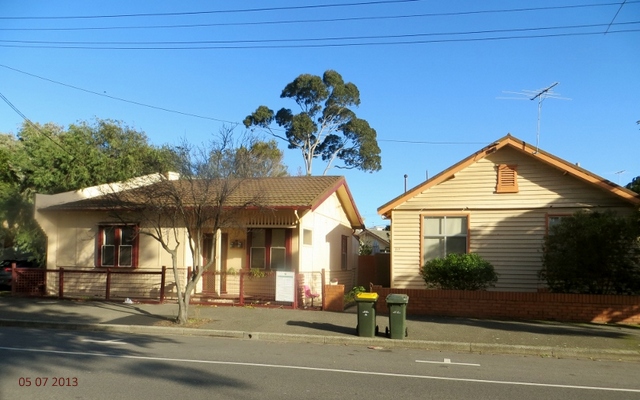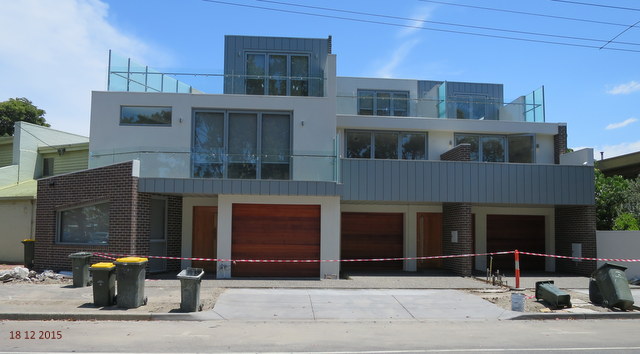 Unfinished business
The house on the corner of Bridge and Nott St is still not finished, though closer to completion than at the end of 2014. This saga has been going on since at least 2007.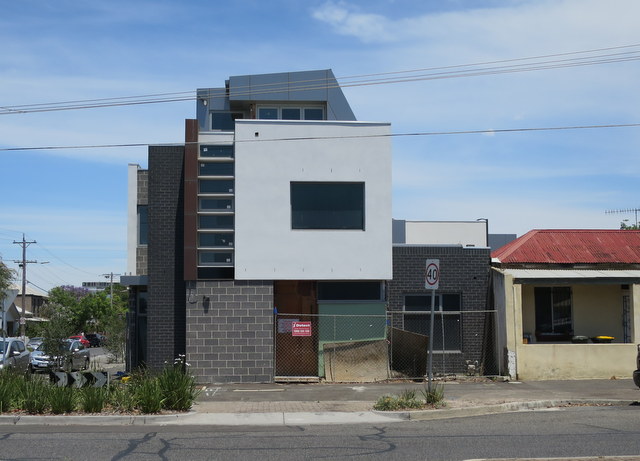 Making homes for others
SKINC, the St Kilda Indigenous nursery on Williamstown Rd (near the development at 538 above), hosted a workshop recently on making a native bee hotel. Might you have space in your garden for one of these? Here is an accessible article explaining how to make one.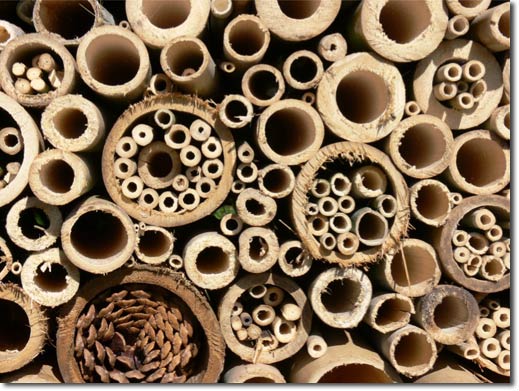 Source
*Domain 11 December 2015