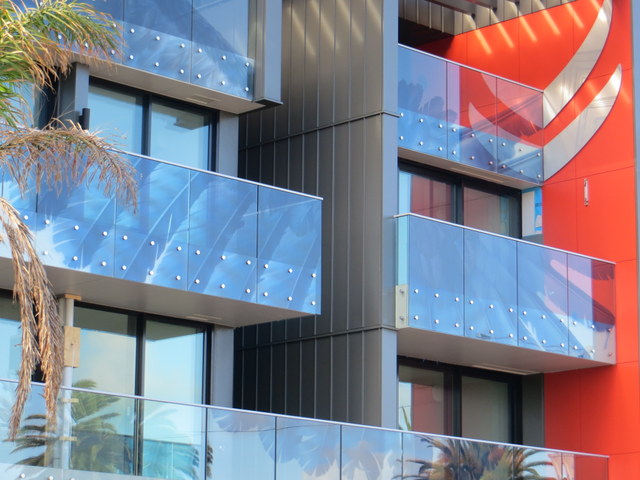 Port Houses in 2014
Some observations of Port Houses in 2014
Green walls – More houses are letting creepers loose – some almost disappearing – behind cool green walls. Formal green walls of a modular type appear on apartment balconies.
Public art on new apartment developments is very dull. It has become just a decorative device for balcony screens. It doesn't excite curiousity or interest, or add visual pleasure.
The six storey apartment block – This is the time when the smaller sites in Port are being developed – all built, or to be built, to Port Phillip's six storey limit for these sites, affirmed through Port Phillip Council's Bay Street plan adopted in August. Aqueous is almost at occupation, Evie is nearing completion, and Mint is all pre-sold. These smaller apartment complexes command premium prices.
The unexpected – a family home arises in Evans St rather than two town houses. Some houses are renovated rather than demolished, as might have been expected over the last few years.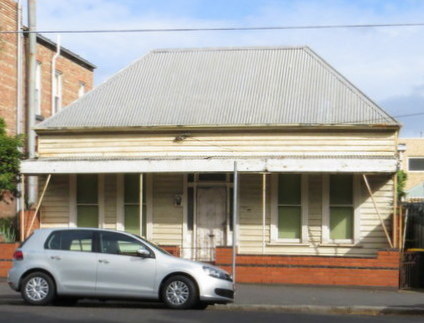 Insane property prices – the penthouse at hmas 'built during Melbourne's golden age of lavish apartments in the 1990s to 2007' (Domain 22/11)  is on sale for over $18m. You can have a sticky beak by looking at the video. A bank house in Howe Parade sold for $1.8m
Changing nature – The distinctive inter-war houses on the eastern side of Esplanade West, built when the Sandridge Lagoon was filled, are disappearing one by  one.  Soon the ability to read this particular phase of Port's development will be lost. This has been hastened after the loss by fire of the house on the corner of Esplanade West and Bridge Street.
Sustainability  – some houses flaunt their sustainability credentials such as the water wall house at 21 Alfred St which featured on Grand Designs. Others are more discreet. There is more evidence of the use of sustainable materials such as insulated concrete formwork in Esplanade West. Prefabrication, which has a long history in Port Melbourne, with its multiple cost and sustainability advantages, returns to the future in Graham St.
Sympathetic and unsympathetic – The planning application for 143 Station St brought together a street full of antagonism because of its scale and bulk. Refused by Council, it was approved by VCAT in September. Its neighbour, by contrast, is exemplary in its sensitivity to the street.
Unfinished business – This house on the corner of Bridge and Nott St is still not finished!  The house was contentious when John Thwaites was the member for Albert Park. We've been through a few election cycles since then.
Port House pick – This house in Garton St is my best house for 2014. Look how sensitively it makes the transition between one house and another. Setbacks, front fence, materials, simplicity … it is a beautiful contemporary interpretation of a terrace house.
After all that, I recommend taking a look at Prince Charles sensible 10 principles for sustainable urban growth in the Architectural Review.