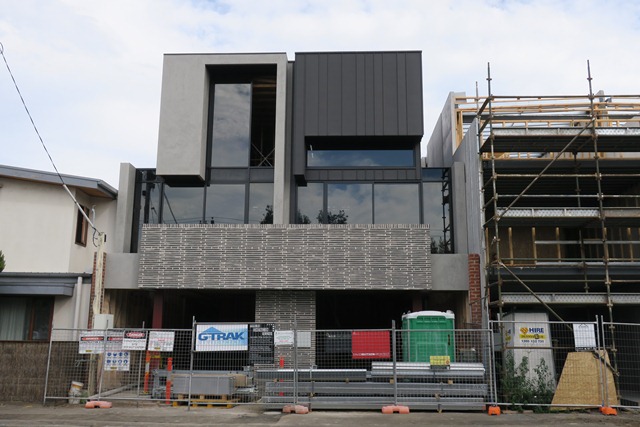 Port Houses in 2017
Houses rise and fall, crumble, are extended,
Are removed, destroyed, restored … (T S Eliot, East Coker)
Observations on Port Houses in 2017
The median house price in Port Melbourne was $1,505,000. In 2016 it was $1,380,000.
The median price of a one bedroom apartment was $760,000  In 2016 it was $455,750. 1
Several houses which had somehow missed the wave of change that has swept over Port over the last thirty years were sold this year. It is said that this small, narrow house associated with the Timms family was bought on a whim by a person jogging past. It would surely qualify for the contemporary interest in tiny houses.
Renewal of the single storey brick terrace at Bridge x Esplanande East began. It seemed to have barely altered since it was built. Removal of the back of the house enabled glimpses of the wallpaper of an earlier period. The builders' Tigers affiliation is proudly stamped on the hoarding marking Richmond's Grand Final win in 2017.
Fire in the Borough
The list of fire ravaged properties deteriorate further each year with the City of Port Phillip apparently having no power to compel any action.
the former Port Picture Theatre on the corner of Bay and Liardet St (30 08 2015)
81 Bridge St (09 2014)
Waterfront Place (14 09 2014) exasperates all those who want Port Melbourne to show its best face to cruise ship visitors
The Hibernian (07 2010)
Three storeys is the new two
The three storey house has become the default for replacement buildings.
This house under construction in Ross Street towers over its two storey neighbour.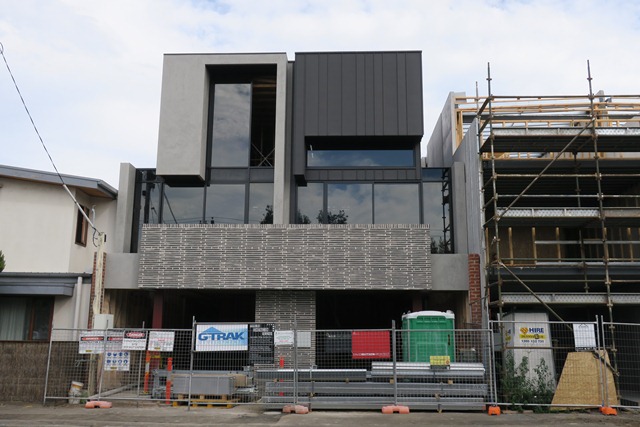 Connection to the past severed
Kevin Palmer's home in Nott St was demolished early in January with the site lying vacant while planning matters take their course. It was hard to get a picture without a car in it but experience at the Port Melbourne Historical Society tells me that the vintage of cars may interest some readers as much as the vintage of houses.
Princes St – Site of change
Princes St between Rouse and Graham Sts is not covered by a heritage overlay in an area earmarked for growth. One by one the houses of many eras are replaced, anticipating the future when all older houses will have disappeared and with them the street's association with the working piers.
Two houses  reached completion in Princes St – one with a pitched roof responding to a streetscape character on the verge of disappearing, the other a generic grey box maximising the site.
Sandridge Motors was demolished in August, the petrol storage tanks removed and a showroom with instant landscape appeared to mark the launch of luxury townhouses Prince & Graham.
The domino of change is likely to roll over three Victorian cottages at the southern end of Princes St with a planning application recently advertised for no 86.
Meanwhile, under Canny Builders, Sable Bleu at the corner of Rouse and Princes St proceeds in a systematic fashion towards its new life – the promise of lush greenery and tranquility yet to manifest.
The planning controversies of 2017
12 Spring St went back and forth between Council, the applicant and VCAT in a planning saga dating back to 2015. The applicant has appealed Council's conditioned approval and is headed off to VCAT early in 2018. Neglected, run-down 22 Spring St in the same block will also change the prevailing streetscape of workers cottages.
The planning application for Waterfront Place refused by the City of Port Phillip goes to VCAT in March 2018
The London was demolished in March. A second VCAT hearing on this site will be held this year.
Fishermans Bend
Port Houses has made a belated effort to catch up with the many planning applications in Montague and Fishermans Bend. In 2017
Gravity Tower (cnr Montague and Gladstone St) was completed as was  BPM's Nightfall in Gladstone Street.
The carpet of townhouses between Ingles and Boundary streets rolls out disappointingly.
The Block (Rouse-Beach-Johnston-Esplanade East)
Construction has begun on the L shaped  Alumuna running between Rouse and Johnston Streets which will fill the remaining spaces in the block.  The double storey brick building, the formerly occupied by Rehame was demolished without fanfare – its story unrecorded.
Out of character
The neighbourhood character of Beacon Cove has been challenged by an application to demolish a garage and erect a three-storey dwelling at Narooma Place. Beacon Cove is covered by a neighbourhood character overlay suggesting that in time it will evolve like the bank houses in Garden City – with an emphasis on maintaining the streetscape while allowing development to the rear of properties.
Heritage
To this observer, there appears to be less interest in, knowledge of and commitment to heritage in planning. We appear to be on a renewed wave of loss of heritage buildings as land values increase.
The heritage formula applied in Heritage Overlay areas, with the streetscape respected and a box towards the rear is leading to a sense of a heritage overlay estate, while outside a heritage overlay the layers of buildings of many periods are lost. leading to less interesting and character full streets.
Random
Dugga Beazley easily transferred his boat building skills to the restoration of his house on the corner of Rouse and Dow Streets – a house doesn't have curves like a boat, he says.
People have moved into a completed part of the development on Bridge x Nott St but the Bridge St remains unfinished.
Sources
1 Realestate.com.au 12 January 2018
T S Eliot Collected Poems 1909 – 1962 Faber and Faber 1963
More
For more detail on any of the houses and streets covered in this post, go to Port Houses and use the search button