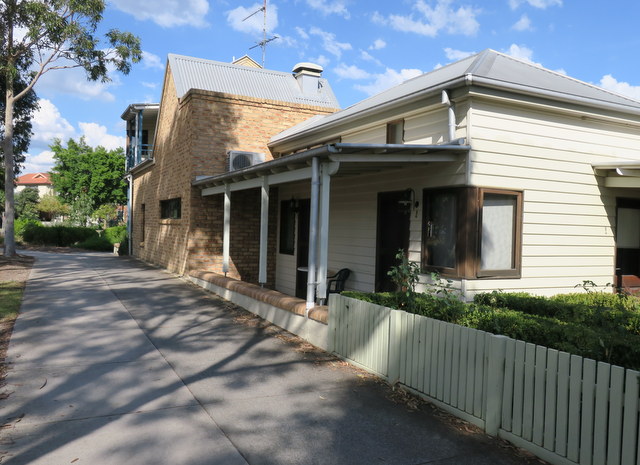 Port Melbourne Home
What makes Wintringham Hostel such a comfortable presence in Port Melbourne?
That gently curving brick wall – no harsh materials, no straight lines, no concrete here. The low walls and fences that make it feel like a regular street.  The little verandahs that make casual interactions between residents and passers-by easy and likely.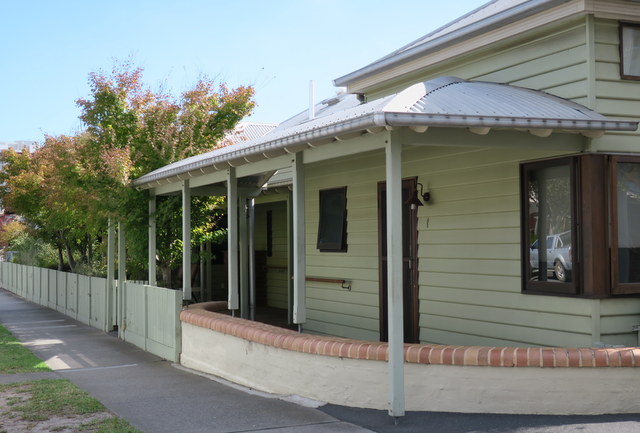 These thoughtful details all express the strong social justice philosophy of the organisation founded by Bryan Lipmann, the 2016 Melburnian of the Year.
The buildings are the human/e work of architect Allen Kong. They express the Wintringham approach to create 'beautiful environments that nurture, uplift and delight the human spirit'. Simplicity and modesty guide the architecture.
The Wintringham approach was borne out of Lipmann's experience of Gordon House, a shelter for homeless people – now a dim  memory to many Melburnians. The 10 storey concrete building sheltered 300 homeless people a night. Gordon House, at this location, was built in 1976 and demolished in 1992 to make way for the Melbourne Convention and Exhibition Centre. For a building to have such a short life is a measure of how unloved it had become. The Age referred to it as 'an icon of ugliness'. New Gordon House was on Lorimer Street and  Tyne St (since disappeared). Its siting revealed how people saw the area in those days – a blighted out of the way place where no one else wanted to be.
Gordon House evoked contradictory impulses in Lipmann. The experience was at once full of vitality and full of despair, loneliness and violence. As he said: 'If buildings could cry, Gordon House would have cried its heart out every night'. It was at Gordon House that Lipmann found the sense of purpose that impels him still – creating beautiful housing for elderly homeless people.
There were no stable housing possibilities for elderly homeless people then. He pioneered a housing model that changed that. Now 1500 people are cared for each night in housing and aged care homes across Victoria, supported by 600 staff.
The timing was auspicious for this novel idea.
At the very time Minister Caroline Hogg announced that Gordon House would close, the land now occupied by Beacon Cove had been identified as a site suitable for redevelopment by the Cain government in its planning strategy Framework for the Future. Here was the site for the hostel*.
For a time, the development of Beacon Cove and Wintringham  proceeded side by side. The hostel opened in 1996. Residents of Wintringham were proud that their hostel won the Building and Social Housing Foundation World Habitat Award in 1997 – a bit of friendly one-upmanship with their Beacon Cove neighbours.
The fuel of social justice continues to fire up Bryan Lipmann.
Next time you're passing be sure to say g'day.
More
* Of course there was more to it than this. Read the Wingtringham Story by Elaine Farrelly
Be fired up too – read Bryan Lipmann's acceptance speech  as Melburnian of the Year 2016
Meet former and present residents of Wintringham
John Crawford, former resident of Wintringham – well known to anyone who shopped at Coles, Port Melbourne