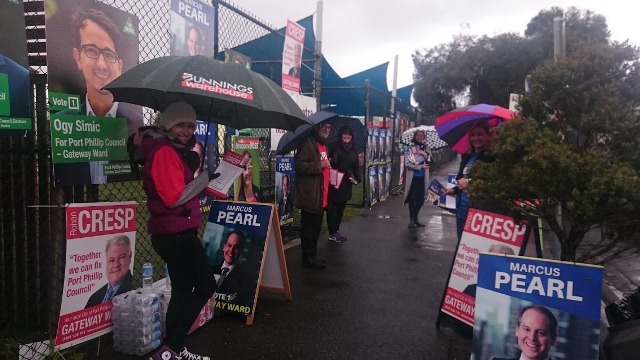 Port Votes
The results have been declared. Bernadene Voss, Marcus Pearl and Ogy Simic will represent the new Gateway ward for the next four years.
For the first time  since the creation of Port Phillip in 1994, electors voted for three councillors in three multi-member wards (rather than seven councillors in seven wards) by proportional representation. This follows a review of Port Phillip's representation by the Victorian Electoral Commission in 2015.
Council elections in Port Phillip and around Victoria were held on Saturday October 22nd – a day memorable for the bitter cold and rain squalls rolling in from the Bay. No sausage sizzles, no coffee carts –  just soggy leaflets, ruined umbrellas and a sense of cameradie from mutual experience of the conditions.
Port Phillip was one of six councils (out of 79) to have attendance voting. The Council made this decision in February 2016 against the advice of Council officers who recommended in favour of postal voting [1].
The voter turnout in Gateway Ward was 14,006 out of a total of 28,326 electors enrolled – 49.45%.
Port Phillip's low voter turnout has been an argument for postal voting but its voter participation has been remarkably consistent over the last three elections – 49.47% in the most recent 2012 election. This is owing to the high number of renters in the City  (50% at the 2011 census) and the large number of non-residents and company nominees on the CEO roll.
Many people took advantage of the month long pre-poll period to vote early and conveniently. Candidates and their volunteer supporters got to know each other over this cold and windy period and most importantly, voters got to speak with the candidates.
Many voters were perplexed by the new ward structures and how the new arrangements had been decided. But above all, voters were looking for the candidates who were genuine. Voters were discerning. They didn't go for the grand gesture of a pool on the foreshore, and appeals to law and order did not appear to gain much traction. Pitches were both grand – the pool on the foreshore – and micro 'Garbage contractor to leave bins upright with the lid closed after emptying' – no doubt a priority gleaned from doorknocking.
The election was fought with tools old and new and with a level of sophistication not previously seen in local government elections. Rosettes and trucks made a quaint comeback, while doorknocking endures. Most candidates had their own websites and used facebook extensively in campaigning. The Greens also used automated phone calls. All this is expensive.
David Brand, newly elected to Lake Ward, reflected on the new ward structure:
"What we can already see is that the new ward system has tilted the playing field against traditional community-based candidature.  Wards now too big to effectively doorknock, printing runs too costly, and the wrangling of sufficient volunteers for letterboxing / handing-out now extremely demanding for most local groups to sustain.  Local-issues candidates have been stretched beyond their local communities —  more generally recognisable political branding will enjoy a wider reach."
Other bits and pieces
Only two councillors from the Council (2012-2016) will be continuing: Bernadene Voss in Gateway and Andrew Bond in Lake Ward
The Greens first preference votes were the highest in all three wards
The gender split is 3 women: 6 men. Port Phillip is one of the few Councils where female representation has decreased rather than increased. Across the state 20.8% (17) of councils across the state  have 50% women or more and there are no longer any all male councils. Overall 38% of councillors are women.
Two former councillors will be returning: Dick Gross and David Brand (1998-2004) It will be important that those councillors refrain from 'when we . . .'
David Brand and Bernandene Voss have the greatest familiarity with Fishermans Bend, Voss as the Council's representative on the Ministerial Advisory Committee and Brand through his participation in the Fishermans Bend Network
Port Phillip has an unusual pattern of one term councillors who assume the mayoral role for more than one year – Rachel Powning, Frank o'Connor, and Amanda Stevens (a sector first in being mayor for three consecutive years).
Some regard attendance voting as quaint, or a dinosaur in a modern democracy, but it definitely helps with the 'fair dinkum' test. With 95 candidates in Wyndham, and 84 in Casey, elections are subject to unpredictable preference flows. There is a lot to be said for the investment of time and energy in attendance elections and the civility with which they were conducted in Port Phillip.
Mainstream media was slow to follow the results of the local government elections. Stephen Mayne, who was not re-elected to the City of Melbourne, covered the election across the state single-handedly and comprehensively from a basis of deep knowledge of the sector and an ongoing commitment to transparency.
The 2016 election in Port Phillip was a decent example of local democracy at work. Unsuccessful former Councillor Touzeau saw her defeat in that spirit, so the last words go to her:
"Democracy is a gift – hard earned over centuries – and despite the amount of work involved one thing is clear and that is the fragility of democracy and the need to build a civic culture to underpin it for the future. We live in a beautiful place with a huge legacy from our forebears. We have a responsibility to care for it, and that inspires my community commitment. We need to be careful that the throw away culture that is entrenching itself in contemporary society does not end up throwing away our society itself."
More
Port Phillip City Council Election Results 2016
City of Port Phillip Council Report 9 February 2016 Voting Method for 2016 election [1]
The Mayne Report: Full call of the card for Vic Council elections