Some thoughts arising from a Jane's Walk through the Wirraway and Employment precincts of Fishermans Bend
Diversity, detail, intricacy, intimacy – these words which recur in Jane Jacobs' writing about cities we love – sustained an autumn afternoon walk through Fishermans Bend.
To know a place, she said, 'you've got to get out and walk'.
We did. There wasn't another soul on the streets. There was an unnerving, unpeopled quiet about the place even though it was such a pleasant day. It reminded me of the heaviness that used to fall on Sundays when shops didn't open, and what a relief Monday was when life would begin again.
The M1 freeway's presence was felt through unremitting noise long before it was seen. Under the Salmon St Bridge, we stopped to hear Jacobs' thoughts on the effects of motor cars on city neighbourhoods. Writing in a new foreword to Death and Life of Great American Cities in 2005, she wrote: "Not TV or illegal drugs but the automobile has been the chief destroyer of American communities." She did not hold back in her critique.
Then to ascend the stair, the only way for pedestrians to access the bridge, to cross the freeway.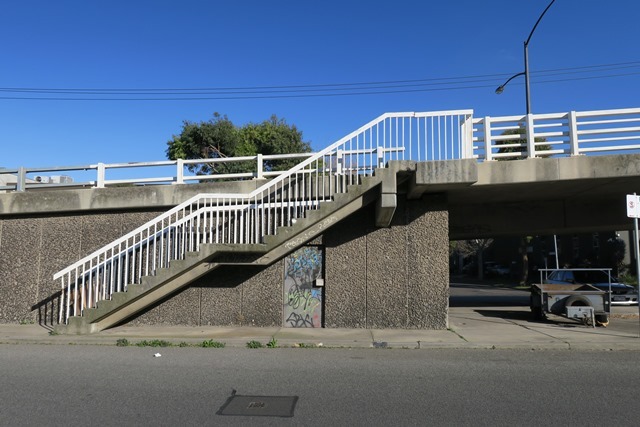 The contrast between the narrow, mean bridge and the expanse of ceaselessly moving traffic on the freeway is confronting. It's only when you walk or ride it that you really know it. It brings to mind another word Jane Jacobs used – cleave. The freeway cleaves Fishermans Bend in two. Even on that quiet afternoon when the week day procession of concrete trucks spinning their loads was at rest in the yard below, it felt uncomfortable to be a pedestrian.
And then to descend, via the stair, into the awkwardly named Employment Precinct. The 230 ha Employment Precinct was added to Fishermans Bend by Minister Wynne in 2015. It has not been re-zoned as the other precincts have been. That means the land values have not escalated to the extent that they have in the other precincts in Fishermans Bend. In turn that means concrete batching plants can function unencumbered by resident complaint, and sheds large enough to accommodate coffee roasteries can be afforded.
The plan for the Employment Precinct is to build on Fishermans Bend's history of engineering and manufacturing innovation to intensify employment in advanced engineering and technology.
We stopped to contemplate the potential that generous Turner St offers – for a tram connecting the City with the General Motor Holden site and Westgate Park. The opening of Canberra's light rail on 20 April made it seemed quite possible.
Off Turner is Hall St. Concrete and cement processing on one side – huge warehouses and industrial estate on the other. This was where after the war many, mostly British migrants, began their lives in Australia at the Fishermans Bend Migrant Hostel.
Mike Brady of Up There Cazaly fame spent time at the Fishermans Bend Migrant Hostel as a youngster. His biographer describes the smells
"To the east, stretching almost to the city, is a chain of animal holding yards and abattoirs. Here, pigs are slaughtered and put through a furnace to burn off their bristles. The stench of burning hair and flesh is compounded as it joins the stink of boiling fat from the Unilever and Cedel soap factories.


Adjacent to the hostel is the Kraft Vegemite factory. The pungent, yeasty smell drifts over constantly. Vegemite is not the spread of choice at breakfast in the hostel canteen."
Children messed about in the marshy unmade area that is now Turner St while their parents made their way across the sandy dunes to work at GMH.
When I returned to the same places this week, it was as if a switch had been flicked. Life was on. It was like night and day. My nose led me back to Hall St to the now open door of Sensory Lab where a huge coffee roastery is in full production and people emerge from neighbouring businesses for their morning coffee.
Who would have imagined that in a big new shed people would be drinking some of the best coffee in Melbourne where British migrants lined up in the canteen for their meals.
There's hospitality led change taking place in Fishermans Bend: Half Acre, The Timber Yard, Starward Whisky, and Sensory Lab – all places where people can meet and experience some intimacy with friends, and strangers, in this big landscape.
Jane Jacobs has her critics but many of her ideas and observations seemed to fit well in Fishermans Bend. It is (at present) not walkable, the blocks are way too long for comfortable walking, the detail and intricacy is missing, and the freeway severs the area irredeemably.
All focus, energy and determination is being directed towards securing a tram bridge across the Yarra River to continue along Turner St. Resolving those small narrow bridges at Ingles and Salmon St, while included in the Fishermans Bend framework plan, are not prioritised in the short to medium term. Perhaps when people are living there, they will become the new advocates to bring forward plans and secure funding for humanising and greening the crossing of the freeway.
Sources
Noel Delbridge Up There Mike Brady (Coulomb Communications Port Melbourne)