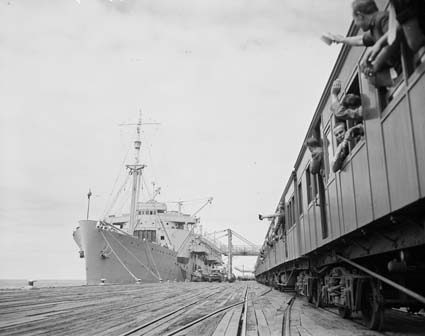 PS – Sharing Stories of Princes Pier
Since writing the post Sharing Stories, I have been reading Beautiful Balts: From Displaced Persons to New Australians by Dr Jayne Persian. I was attracted to the book by its cover which features that well know photograph of the HMAS Kanimbla at Princes Pier and the waving people on the train bound for Bonegilla – one of the sequence of photographs from the National Archives discussed last week.
Persian devotes the second chapter of her book 'Chifley liked them blond' to discussing the genesis of the Government's immigration programme, driven by the first Minister for Immigration, Arthur Calwell. She draws extensively on original sources and Calwell's own statements to discuss the selection processes used for those first immigrants to Australia.
While I recommend the whole book, which is shortlisted for the Prime Minister's Literary Award for Australian History, I was particularly drawn to the discussion of how that very first shipment of people to arrive at Princes Pier on the HMAS Kanimbla was selected:
"Selection officer George Kiddle, an ex-RAAF serviceman who became one of the first migration officers, later recalled:
Our instructions were to take displaced persons from the Baltic states only for the first ship. That is Estonia, Lithuania and Latvia … We tried to pick …good decent-looking people … appearance very much so … We've got to make sure they look very impressive .. we've got to pick people that look attractive to the Australian population .. we tried to make the first ship particularly impressive. (p64)
This is just a snippet of a much more detailed discussion.
Further details: 
Beautiful Balts; From Displaced Persons to New Australians Dr Jayne Persian, NewSouth Publishing 2017