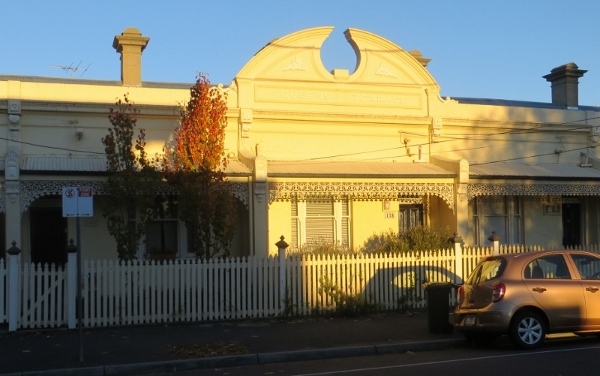 Queens Terrace
Queens Terrace forms an identical pair of terraces with Jubilee Terrace.
They were built in 1887 for agent Alexander Gunn and named in honour of the Golden Jubilee of Queen Victoria's accession.
'In the early stages of Port Melbourne's history, reserves were set aside for various public purposes. On 12 June 1862, a grant of 2 acres was reserved for the purposes of a  'General Market'. This was bounded by Bay, Liardet and Nott St.  The Nott Street frontage was later sub-divided and during 1887,  Alexander Gunn, an agent from South Melbourne, erected fourteen 4 room brick dwellings. Half the houses were sold during 1888.
The buildings are divided into two terraces of seven dwellings each. Each group has a unifying parapet with a central pediment, with central opening and urn. The groups have identical features; chimneys, picket fences, rear outbuildings, windows and doors. This uniformity gives the two groups a splendid feeling of continuity, which is further enhanced by consistent paint scheme.'
This picture was taken in the afternoon after the solstice.
Sources:
Port Melbourne Conservation Study prepared by Jacobs Lewis Vines Architects and Conservation Planners 1979