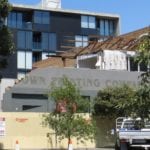 'Raw to Refined'
The former Kosdown printing premises at 63 Rouse St were demolished over the heatwave week. Hot work!
Kosdown was in Rouse St, Port Melbourne for about 30 years. Now they are at 10 Rocklea Drive in Fishermans Bend – always innovating to provide even better service.
Marketing for the Evie apartments describe Port Melbourne as Melbourne's 'most dynamic and eclectic' inner beach suburb.
Architects: Rothe Lowman